Jewish World Review June 16, 2006 / 20 Sivan, 5766
What's so Promising about the Promised Land?
By Rabbi David Aaron
Making Dreams Come True
The original destination of the Israelites when they escaped their slave masters in Egypt was the Promised Land. The funny thing, though, is that when they were about to get there, they started to have second thoughts. They sent in a group of spies to check it out. This group returned after a quick look and told the people that the Promised Land consumes its inhabitants. In other words, it was a place that demands a lot of work. The people wondered, "Why should we leave the comfortable womb of the desert where G-d showers us with daily blessings? Why leave this miraculous desert and go to a land that demands so much human effort and hard work? What is so promising about the Promise Land?
Unlike the spies, however, we Jews stand before G-d yearning our return home to the Promised Land. Eagerly anticipating the end of our exile we offer this daily prayer three times a day:



"Blast the great shofar for our freedom, lift up a banner and gather in our exiles. And gather us in from the four corners of the earth. Blessed be You, G-d, who gathers in the dispersed of His nation Israel."

                       — From the daily Jewish prayer called the Amidah


By reciting this daily prayer, we little by little, fix the sin of the spies; expressing our burning desire for the Promised Land. After thousands of years living outside our land, we yearn for our homecoming and we pray that it be in a spirit of pride and celebration. Because coming home to Israel is a dream come true.
As long as Jews are in exile, we represent just a religion, but not the priestly nation we were meant to be. Only in Israel, our homeland, can our people fulfill our national destiny. Just as an individual cannot exist in this world without a body, so too, a nation cannot exist without its own land. As the body is to the soul, the Land of Israel is to the collective national soul of the Jewish people.
THE ZIONIST DREAM
Among the early Zionists, there was an ideological dispute. Some Zionists felt that the return to Zion was an "ideal," an opportunity to actualize our unique national identity, to take our rightful place among the nations and fulfill our national mission. There, in our homeland, we would finally be free to be who we are and develop our unique Jewish culture. There were other Zionists, however, who believed that the Jewish people needed an asylum in times of danger. To them, the Land of Israel was important only as a place where Jews could flee for refuge from countries that sought to oppress them. But in countries where Jews were treated as equals, there was no need to leave.
Neither of these approaches is the Torah approach. The Land of Israel, according to the Torah, is not a place to run away to and not a place to merely create and establish a unique culture of Jewish art, literature, music, etc.. If either of these were the case, then the geographical location of the land would not matter.
When Britain offered the famous Zionist leader, Theodore Herzl, land in the largely undeveloped area in Uganda as a Jewish homeland, he was ready to take it as a temporary solution to the plight of the Jews. To his chagrin many of the delegates at the 1903 Zionist congress rejected the proposal. But even after a raging debate the congress voted to check out the option. World Jewry, however, opposed the plan, fearing it would turn into their permanent residence. Herzl, the plan's leading proponent, died of heart failure within less than a year and so did the Uganda proposal.
The Jewish dream could have never been fulfilled in Uganda because we were not simply looking for a place to run or a place where we could create the ideal Jewish political or cultural society. The Jewish dream and destiny can only be fulfilled in the land of Israel because, metaphysically, this is our home, and no other place is our home. This land is the body of our national soul.


ENJOYING THIS ARTICLE?



You can buy the book at a discount by clicking HERE. (Sales help fund JWR.).

When Peter Jennings, the newscaster, was doing a show about Jerusalem, he sent researchers to Israel to gather facts. I don't know how he found me, but I received a call from one of the researchers. She said to me, "So many people over the years have come to Jerusalem. What is it about Jerusalem that draws you to its walls, to this place?"

"I don't know," I responded simply.

"How do you not know?" she asked.

"Honestly, I can't explain it," I told her. "How do birds know where to fly? How does salmon know where to spawn? Jews just know that this is our place. It has a spiritual character that just fits us like no other land."

Returning to our land is a great celebration of self-actualization for the Jewish people. In our daily prayer, we are not asking G-d to return us because the other nations of the world do not like us and we need to run for our lives. Just the opposite. Living in the Land of Israel would not only be the best thing for the Jewish people, it would benefit the entire world, as the verse states, "From Zion will go out Torah and the word of G-d from Jerusalem." We inspire and impact the world the most when we broadcast the prophet message the Holy Land.

GETTING THE EXILE OUT OF US
One Friday afternoon when I was on the way to synagogue, I met an old high school buddy, Sheldon. It was the first time we had seen each other in years. During my high school days I did not live a Torah life so he was very surprised to see me all dressed up for Shabbes (Sabbath), with a yarmulke on my head, tzitzis hanging out of my pants and a siddur -- prayer book-- in my hand.

"Oh, no!" he said. "You didn't get 'Ortho-ed,' did you?"

"Hi, Sheldon," I said. "How are you?"

"You became an Ortho Jew?" he repeated. Apparently, this notion was hard for him to handle.

"Well, Sheldon, I don't like labels."

He said, "I can prove to you that everything in that book you're holding is a lie."

"Sheldon, cool it," I retorted. "This is my siddur."

"No," he repeated. "It's a lie."

"Why is it a lie?" I asked.

"For instance," he explained, "you Orthodox Jews pray everyday to return to the Land of Israel, so why don't you Jews just get on an El Al airplane and go?"

"That is a good question," I admitted. "But why are you asking me? I live in Israel!"

Of course, the prayer book is not a lie. But, as this experience taught me, perhaps what is lacking is in the way people pray. If we really want something, then we must ask ourselves what are we doing about it. If we are able but not willing to answer our own prayers how can we expect G-d to take us seriously?

Of course, changing our lives is not so simple. People have many different reasons for making their decisions. Understandably it is not easy for everyone to just pack up and move to Israel. But if we are praying that the our people return to Israel, our homeland, at least we should feel saddened that we are not there, and prepare ourselves and/or help others to get there and successfully live there.

A friend of mine who was visiting Los Angels was speaking to a religious woman there. She was raving to him about the new Hungarian goulash glatt kosher restaurant that had just opened up, and how they have a shopping mall with glatt kosher this and glatt kosher that, a new mikveh with a diving board (just kidding), and so on and so on.

My friend said to her, "You seem very happy here."

"We are very happy here," she said.

"But you seem very, very happy here," he clarified.

"Quite frankly," she said, "I hope that when Moshiach [Messiah] comes, he will let us stay."

Unfortunately some Jews, although, pray daily for the ingathering of our people and yet they themselves are not interested in living there. Of course, each of us must make our own decision about when to return to our homeland. But a Jew who lives in the Diaspora must remember that s/he are in exile, s/he is not home, and s/he should yearn to get come home as soon as possible. Sadly, however, this is not always the case.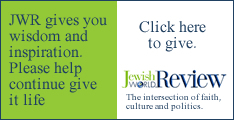 Some people claim that the Land of Israel is simply a state of consciousness that one can experience anywhere in the world. Indeed, the Midrash states that after Moshiach comes, the holiness of the Land of Israel will extend to the rest of the world. But this Midrash is describing a metaphysical experience. The Torah, however, is not talking philosophy or metaphysics when it outlines the exact borders of the Land of Israel. The Torah gives us real physical borders, and this is what we must establish and defend. Simply, we have a responsibility to develop the land and settle the land. The Torah does not tell us to live in California. The Land of Israel is our home, where we can fulfill our life mission.
True, some of us may have good reasons why we cannot return to our homeland just yet. It is not easy to uproot oneself or a whole family. Rabbi Avraham Yitzchak Kook, the Chief Rabbi of Israel (at that time called Palestine) in the 1920s who was known as a passionate Zionist, had a surprising response to a letter that someone wrote him, asking him about making aliyah (moving to Israel). Rabbi Kook responded, "Be sure that when you make aliyah, you are able to succeed. Plan carefully and do not be too hasty in your planning. Make sure your timing is right."
Even Rav Kook did not say, "jump." But it is important to understand that if we are praying to G-d for the ingathering of the exiles to the land, then we must be sincere and really want that. Otherwise we have fallen prey to the fatal mistake of the spies.
When we are anxious to return to the Promised Land, to reclaim our national independence and fulfill our universal mission, we will naturally pray with heart and soul:
Blast the great shofar for our freedom; awaken us to our national identity and purpose. As long as we are in exile, we are a religion, but not the priestly nation we were meant to be. Only in Israel, our homeland, are we free to fulfill our national destiny. Lift up a banner and gather in our exiles; Not as unwanted fugitives but as proud Jews leaving in a joyous parade and great fanfare; celebrating our long awaited return to our home where we can finally actualize our national dream. And gather us in from the four corners of the earth/ to finally take our rightful place on earth to become a light unto the nations; a model state inspiring global change. Blessed be You, G-d, who gathers in the dispersed of His nation Israel.

For more on the power of prayer see these bestselling books by Rabbi David Aaron: "Endless Light: The Ancient path of Love, Spiritual Growth and Personal Power" and "Seeing G-d: 10 life-changing Lessons from the Kabbalah"
Every weekday JewishWorldReview.com publishes uplifting articles. Sign up for the daily JWR update. It's free. Just click here.
To comment on this article, please click here.
JWR contributor Rabbi David Aaron is the founder and dean of Isralight, an international organization with programming in Israel, New York South Florida, Philadelphia, Los Angeles and Toronto. He has taught and inspired thousands of Jews who are seeking meaning in their lives and a positive connection to their Jewish roots.
He is the author of the newly released, The Secret Life of G-d, and Endless Light: The Ancient Path of Kabbalah to Love, Spiritual Growth and Personal Power , Seeing G-d and Love is my religion. (Click on links to purchase books. Sales help fund JWR.) He lives in the old City of Jerusalem with his wife and their seven children.

© 2005, Rabbi David Aaron