Jewish World Review June 28, 2006 / 2 Tamuz, 5766
Choosing to be chosen
By Rabbi Avi Shafran
In one of those "only in New Yawk" stories, a fervently-Orthodox rabbi is confronted by a group of "real Jews"
http://www.JewishWorldReview.com | Their usual haunt is Times Square but this time the threatening threesome had set up shop — a makeshift stage and an impressive speaker system — near the Staten Island Ferry terminal in Manhattan, where I embark on my commute home each day. I was surprised to see that my old acquaintances hadn't changed at all since the last time I had come across them a few years ago in midtown.

The master of ceremonies, as then, was loudly inveighing against people of non-color. He was flanked by his two assistants dressed like he was, in colorful caps and robes adorned with Jewish symbols. Together, they angrily denounced Caucasians — with particular malice for "so-called Jews." Occasionally, the lead man would nudge one of his helpers who had missed a cue to read from the bible he held in his hand. The addled assistant, once (or several times) so reminded, would then find the place in his own book and, pointing with his finger, read a pre-designated verse, stiltedly but with enthusiasm.

Next to the stage was a large display board, inscribed with the names of the twelve tribes of Israel. Opposite each was a novel identification: one of twelve African or Caribbean nationalities. Their citizens, the MC announced loudly, were the "real Jews."

When I first saw the performance a few years ago, my immediate reaction was amusement. But then I experienced something like pity for the triumphalist trio and their fans. How tragic, I thought, that beings created in the image of G-d, capable of truly meaningful accomplishments, can imagine themselves worthy of dignity only by belittling others, even stooping to adopt an identity not their own.

There would be no point, I realized, in engaging the pitiable prophets in conversation. Their beliefs were fueled by fantasy, not fact, impervious to reason. But I indulged all the same in a little fantasizing myself, imagining what I would tell them if only I might find some crack in the wall of their whimsy.

The revelation would no doubt disappoint them, but I would share with them a secret: Jewish chosenness isn't a trophy, a bed of laurels on which to proudly rest. It doesn't mean having made it — or, for that matter, having anything at all.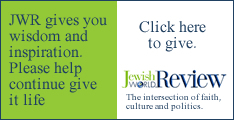 In the Jewish view of things, being chosen is less a badge than a charge. Yes, religious Jews do indeed consider our forefathers' and foremothers' merit as extending throughout the generations to encompass their descendants. But the bottom line of being chosen is that it is not a reward for any achievement — certainly not any of our own — but an obligation to achieve.

In fact, I would tell them, if they were still listening, that the special status we Jews possess — unlike the supremacy preached by racists of whatever hue — is in fact available to anyone who both recognizes what "chosen" truly means and is sincerely and utterly willing to join the Jewish people and its mission. Many are the biological ethnicities represented in the Jewish people — today as throughout the millennia. One can indeed choose to be chosen.

But the tickets of admission to the Jewish People are sincerity and commitment, not placards and loudspeakers. It's easy to strut about and shout, to brandish skullcaps and Stars of David. Undertaking the endeavor of Judaism — humbly assuming the yoke of the Torah's commandments and Jewish observance — is in a different realm entirely.

Then, though, something else dawned. The rabbis of the Talmud exhort us to "learn from every man." Might there be something to be learned from the fearsome threesome? Of course there is. For they are remarkable, if unintentional, testimony to how coveted the name "Jew" is, even at a time (have there been others?) when the real "real Jews" are hated by so many. The Times Square trio may have no clue about what being a Jew really means, but their desire to assume the mantle is still striking and worth pondering.

What it should teach us born or properly converted Jews is just how special we in fact are, how desired is our very identity. And what it should inspire us to do is more seriously set ourselves to the holy mission of being what Jews are meant to be.
Every weekday JewishWorldReview.com publishes what many in Washington and in the media consider "must reading." Sign up for the daily JWR update. It's free. Just click here.
JWR contributor Rabbi Avi Shafran is director of public affairs for Agudath Israel of America. Comment by clicking here.
© 2006, Am Echad Resources