Jewish World Review Dec. 9, 2010 / 2 Teves, 5771
Websites can have bar mitzvahs? You gotta be kidding!
By Binyamin L. Jolkovsky
What technology -- and one guy from Brooklyn -- has wrought
http://www.JewishWorldReview.com | Can a website have a "bar mitzvah"?
As silly as the question may seem at first blush, I have been giving the notion considerable thought because JewishWorldReview.com celebrates its 13th birthday -- its bar mitzvah -- tomorrow, December 10.
These days a bar mitzvah can sometimes conjure up images of a grand shindig in which one Jewish family tries to one-up others with extravagance. There are themes, DJs, waiters, four and five course gourmet meals and even champagne. The milestone has become a day that, intentionally or not, glorifies materialism. Spirituality has become the pretext for the celebration rather than its raison detre.
In actuality, a bar mitzvah is about commitment and responsibility --- to one's heritage, to one's people and to the world. The transitioning from child to budding adult is about others as much as oneself.
For JWR, it's no different.
It has long been customary for the bar mitzvah boy (and, more recently, for the bat mitzvah girl) to give a pshetel, a brief talk in which he offers thought provoking comments. These talks often mention the bar mitzvah boy's past, and his hopes for the future.


JWR's bar mitzvah belongs to you as well as to me. This isn't my celebration --- it's ours
Thirteen years ago I started JWR without seed money, venture capital or investors.
I'll be frank. It took hard work -- far more than I ever imagined -- to turn my idea for site that would benefit you and hundreds of thousands of other regular readers into reality.
JWR is now one of the largest and most read Websites in the world.
Yet JWR is also a site that readers feel a part of and care about deeply, and for that I am eternally grateful.
All my hard work (believe it or not, JWR is still just me) would mean nothing without you.
In fact, in many ways, maybe even most ways, you are as responsible for making JWR a success as I am. Your readership, your input and your support made JWR what it is today --- one of the most read and most visited websites in the world.
JWR's bar mitzvah belongs to you as well as to me. This isn't my celebration --- it's ours.
Just like most bar mitzvah boys, JWR doesn't look much different today than it did a year or two ago.
But soon you'll see changes. JWR will have new, modern, "grownup" look, and other changes will make your daily reading experience more enjoyable and even more personal. You'll be able to comment on articles and, in some cases, interact with authors.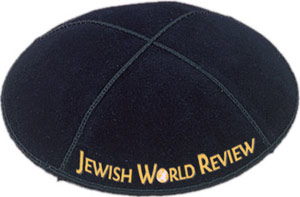 But JWR's heart and soul, its neshama, will stay the same. It will be there for you, as comfortable, intelligent and entertaining as it always has been.
So, happy birthday and mazel tov!
Today JWR is one of the largest and most influential sites on the entire Internet --- your site, your influence and a member of your family, because you opened your "door" and let JWR in. Together we have made a difference and, with the help of God (and you), we will continue to.
JWR provided the first national home for numerous columnists, among them, Dennis Prager and Michelle Malkin. And JWR also provides a platform for long established columnists from the Left, Right, Center, including Nat Hentoff, Ed Koch, and Thomas Sowell. I promise you that l will continue to seek out the best new talent available.
But I also promise you that JWR will continue to be yours.
May we all have at least 13 more years together, and may our "child" JWR continue grow and continue to make us all proud.
If you want, you can donate to help keep JWR up and running.
You might not realize it, but your donations really do keep JWR going, and whatever you give will be greatly appreciated.
If you give $36 or more, I'll send you this special, personalized JWR bar mitzvah yarmulke (pictured above) made from the highest quality suede as my personal thank you.
It's a great conversation starter, it shows your love for the Jewish people (whether you are Jewish or not). Wear JWR's bar mitzvah yarmulke the next time you go to a synagogue or to a Jewish function. More importantly, it's a reminder of what we all have achieved together. (It's even a great gift idea.)
(If you give less than that, or even nothing at all, please know that I appreciate you and value you, and this celebration is no less yours because of it.)
Again, thank all of you for reading and for your support. Mazel tov!
[The yarmulkes are still being printed, and may look slightly different from picture above.]
Here's how to donate:
You can make a tax deductible charitable contribution through our secure online form.
Those wishing to donate via conventional mail, may do so by sending a check made out to to:
Keren Yehoshua V'Yisroel
125 Carey Street
Lakewood, NJ 08701
Tax ID: 22-3209160
Note on your check your donation is for the "Internet Educational Project."
Some readers suggested that we create a system where a monthly donation — even as little as $1 — could be automatically deducted from a credit card or checking account. To do so, please click here.
In SINCERE gratitude and friendship,
Binyamin L. Jolkovsky
Editor in Chief

Every weekday JewishWorldReview.com publishes what many in Washington and in the media consider "must reading." Sign up for the daily JWR update. It's free. Just click here.
Interested in a private Judaic studies instructor — for free? Let us know by clicking here.
Comment by clicking here.