<!- end inthis -->
For your consideration

By Randy A. Salas

http://www.JewishWorldReview.com | (MCT) There are nearly two months to go before a couple of lucky stiffs get their Academy Awards for best screenplay on Feb. 25. Right now, the writers who matter are the Oscar bloggers, who create the buzz that studios need to keep their campaigns humming. In years past, the studios controlled the conversation with "For Your Consideration" campaigns, but the Internet has changed everything. Now the studios invite bloggers to early screenings, ersatz DVD parties and cozy Q&As with Oscar contenders. These are a few of the main players:

PATRICK GOLDSTEIN, LOS ANGELES TIMES

Risky Biz Blog reporter.blogs.com/riskyHollywood Reporter columnist Anne Thompson knows the business, so when she deals with the Oscars (only one of the blog's regular topics) she speaks with authority. Unlike most of the competition, she actually does shoe-leather reporting. A recent post about a "World Trade Center" bash at Morton's was a model of how to work a room, with Thompson getting a fascinating insight from financier Moritz Borman (European audiences are turning against U.S. movies as well as U.S. foreign policy) while shrewdly gauging the movie's Oscar hopes. This blog is a must morning read.Gold Derby goldderby.latimes.com Reading Tom O'Neil on the Los Angeles Times' award site is like cozying up under the covers to watch a Joan Crawford movie -- it's a high-camp experience. Although steeped in academy lore, he's the poster boy for the trivialization of Oscar coverage. Every minor item is an eye-popping scoop, whether O'Neil is touting Catherine O'Hara in "For Your Consideration" or "Factory Girl's" Sienna Miller, whom he claims "is coming on strong as a late-breaking Oscar rival -- some gurus even dare to say front-runner -- in the best-actress derby." My favorite O'Neil headline: "Did Oscar Break Up Reese and Ryan?"Hollywood-Elsewhere www.hollywood-elsewhere.com Blogging is supposed to be personal, but too often Jeffrey Wells tells us more than we want to know about what's going on in his life, including how the tape of his chat with "The Queen's" Michael Sheen was ruined "by clattering dishes and the loud, insistent voices of three or four women sitting two tables away." I admire Wells' pit bull-like tenacity but could do without his delusions of grandeur, as in his recent boast that he was "very satisfied -- I can even say comforted -- that I was part of the team that ... took down 'Munich.' "The Hot Blog www.mcnblogs.com/thehotblog David Poland spends most of his time deriding the print media's feeble attempts at covering the award racket. Alas, his coverage leaves something to be desired, as with this recent bizarre Oscar musing: "Even the fumbling, slightly irritating bedmates from Toronto couldn't be sent on their way, never to be clumsy again, because what if the frogs turned out to be princes/princesses and we were too stupid to see it and sent them away too soon and someone else became their famous mate?" Poland is so dismissive of everyone else's scoops that Wells once wrote that if Jesus Christ floated down from the heavens onto the White House South Lawn, Poland would say, "Is anyone really surprised by this?"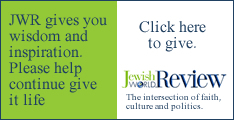 Every weekday JewishWorldReview.com publishes what many in in the media and Washington consider "must-reading". Sign up for the daily JWR update. It's free. Just click here.
Randy A. Salas is a columnist for the Minneapolis Star Tribune. Do you have a favorite Web site or a question about how to find something on the Internet? Send a note by clicking here.

Previously:
Freaky food forays
Best of 2006 online
Missed marketing
H.G. Wells' legacy endures
A quest for dragons
E-mails you've sent
In the news
It's free!
Websites that help you find books that are right for you
Coping with illness
Some serious face time
Some serious face time
In reply to your e-mail ...
Turn your handwriting into a computer-based font that will allow you to churn out homespun greetings
Music for everyone
'Elusive planet' can be viewed clearly from Earth with the naked eye
Central characters
E-mail @ 35
Idle chatter
Funny money
Classic artwork in motion
For an unusual Thanksgiving
Your slip is showing
Best of the worst
Test your mind power
Remain anonymous

© 2006, Star Tribune Distributed by McClatchy-Tribune Information Services.
Columnists
Toons
Lifestyles