<!- end inthis -->
Freaky food forays
By Randy A. Salas
http://www.JewishWorldReview.com | (MCT) Have you ever considered how odd some of our traditional holiday foods are? Does anyone ever eat that dense oddity known as fruitcake? Consider the unusual mix of ingredients in mincemeat pies (ground boiled meat, suet, raisins, apples, spices) or the caustic process used to create lutefisk. But then we have the weird foods chronicled by these websites.www.weirdmeat.comWith a name like Weird Meat, you know you'd better steel your stomach before diving in. Blogger Michael Ohlsson, an American traveler who now lives in Shanghai, says he started his site more than two years ago as part of an experiment to see why some foods are popular in some cultures and reviled in others. His top five dishes include Shanghai's drunken shrimp, in which the clawy critter is eaten live after marinating in sweet alcohol to calm it down, and Cambodia's fried spiders ("Make sure you have some paper napkins, as the black juice from these is greasy"). Ohlsson says, "I've eaten dog, cat, rat, cockroach, camel penis, bee larvae, scorpions, spiders, night hawk and preborn duck embryo without feeling ill. Can't say the same for Taco Bell or McDonald's."www.supersizedmeals.comSupersized Meals covers normal food, but only dishes served in "epic proportions." It recently featured, for example, the Quadruple Bypass Burger served at the Heart Attack Grill in Tempe, Ariz. The monstrosity includes four beef patties weighing 2 pounds, loads of bacon and layers of cheese. Calories? About 8,000. Choke it down with some Flatliner Fries, which are cooked in pure lard. That artery-hardening combination makes the Supersized Meal's regular recaps of food-eating challenges, such as who can eat the most baby food or tacos, seem like child's play.www.willitblend.comThen there's the "extreme blending" of Will It Blend? At the goofy Blendtec site, host Tom Dickson takes unlikely foodstuffs, tosses them into a blender and sees what happens. (He often grinds together common household objects, too, such as hockey pucks, but we'll stick with food for this column.) Nicely produced videos document the shenanigans. The site's most famous creation, Cochicken (as seen on the "Today" show), forcibly commingles Coke and a bone-in rotisserie chicken. Yum. Other concoctions include oysters "in the whole shell," a Thanksgiving dinner (with turkey drumstick) and a Big Mac Extra Value Meal. The subjects are divided into "Try This @ Home" and "Don't Try This @ Home," so be careful before becoming a blenderizer.www.bertc.com/japanese_ice_creams.htmSay, I betcha right about now you could use a nice, refreshing spoonful of fish-and-brandy ice cream. No? How about fried-chicken-wing ice cream? Those and other bizarre flavors of Japanese ice cream are captured in a photo gallery by the Mainichi Daily News (reposted in an easier-to-read format by Bert Christensen's Weird & Different Recipes).ori.msnbc.msn.com/id/9687163This weird-foods Web Search kick got started a little more than a year ago, when MSNBC writer Jon Bonné compiled his list of "7 foods that truly require a fearless stomach," including grilled spiders, still-beating cobra heart and monkey brains. The article was so popular that he quickly came back with reader suggestions (www.startribune.com/a2081), such as blood pancakes and stink eggs. All I can say is, pass the fruitcake.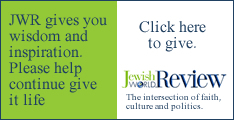 Every weekday JewishWorldReview.com publishes what many in in the media and Washington consider "must-reading". Sign up for the daily JWR update. It's free. Just click here.
Randy A. Salas is a columnist for the Minneapolis Star Tribune. Do you have a favorite Web site or a question about how to find something on the Internet? Send a note by clicking here.

Previously:
Best of 2006 online
Missed marketing
H.G. Wells' legacy endures
A quest for dragons
E-mails you've sent
In the news
It's free!
Websites that help you find books that are right for you
Coping with illness
Some serious face time
Some serious face time
In reply to your e-mail ...
Turn your handwriting into a computer-based font that will allow you to churn out homespun greetings
Music for everyone
'Elusive planet' can be viewed clearly from Earth with the naked eye
Central characters
E-mail @ 35
Idle chatter
Funny money
Classic artwork in motion
For an unusual Thanksgiving
Your slip is showing
Best of the worst
Test your mind power
Remain anonymous

© 2006, Star Tribune Distributed by McClatchy-Tribune Information Services.
Columnists
Toons
Lifestyles