<!- end inthis -->
Jewish World Review Nov. 3, 2009 / 16 Mar-Cheshvan 5770
Angela Merkel's Quiet Revolution
By Anne Applebaum


http://www.JewishWorldReview.com | Did you know that there were German elections in late September? Were you aware that the German socialists were soundly defeated? Had you realized that there was now a new government in Germany? No? Then give the credit-for both the victory and the fact that you haven't heard about it-to Angela Merkel, Germany's chancellor. And even if you did know all of that, you might as well cheer anyway, because Merkel's achievement is far greater than it seems. She is a soft-spoken, even-tempered, and frankly dull pragmatist who has compared her economic program to that of a "Swabian housewife." Her election campaigns are the most boring anyone can remember. Despite the decisiveness of her recent victory, she humbly declared that she "respected those who did not vote for me." To underline that point, she celebrated her new term as chancellor with a lunch of potato soup and sausages, an event that the Financial Times called "so low-key it resembled an atonement rite more than a celebration." She is, if you like, the anti-Obama: zero charisma, zero glamour, beige pantsuits, and a spouse who rarely appears in public.
And yet, partly by default and partly by design, Merkel is now the de facto leader of Europe. Over in Britain, Gordon Brown's Labor Party is self-immolating. Over in France, President Sarkozy's attention-deficit issues propel him from one project to the next, to the irritation of everybody. Italian Prime Minister Silvio Berlusconi is under endless investigation, and everyone else is too small or too preoccupied to compete. Even when the European Union chooses its new president later this year, he (and it will almost certainly be a he) will find it extremely difficult to do anything that contradicts the wishes of Merkel, who regularly tops lists of the world's most powerful women.
In fact, the more I watch her, the more I am convinced that her femaleness holds the key to her success. Under her watch, Germany has continued to grow more powerful, more influential, and more dominant than ever before. Yet not only has no one noticed, they applaud and ask for more. If a bull-necked Helmut Kohl or a flashy Gerhard Schröder were running Germany, there would be rising anxiety and mumbling about the Fourth Reich-just as there was at the time of German reunification 20 years ago, when Kohl was still in charge. But Merkel provokes no jealousy or competitiveness among the alpha males who run large countries, and she inspires no fear among the citizens of smaller ones.
On the contrary, Germany even has good relations with most of its neighbors to the east, many of whom are inclined to distrust Germans as a matter of principle. This is partly because she is so willing to show up when asked and offer mild-mannered words of friendship and apologies for World War II. After which she returns home and works to make Germany stronger and more dominant in the region. And everyone smiles.
This is not to say that she has been an entirely successful chancellor or that she has fulfilled everyone's expectations. Though she has kept Germany on a relatively even keel throughout the current recession-among other things by refusing to spend what the U.S. administration wanted her to spend-she hasn't been nearly as forceful about economic reform as she once said she would be. Nor has she fulfilled her foreign-policy promise. At the moment, she is probably the only politician capable of uniting Europeans behind a common energy policy and a common Russia policy. So far, she hasn't even tried.
Until now, Merkel's various failings have often been attributed to the fact that she was in a "grand coalition," one of those dysfunctional, only-in-Europe parliamentary governments, the result of a coalition between the socialist left and the Christian Democrat right-somewhat as if the White House were shared out evenly between Republicans and Democrats. Every tiny issue had to be negotiated between the two major parties, every step in foreign or domestic policy elaborately discussed. But as of October, her coalition partner is another center-right party, the Free Democrats, and she has no more excuses. Perhaps that is why she has suddenly started talking about cutting taxes, which in Germany counts as genuinely radical.
If, in the coming months, she wants a bigger, louder role outside Germany, she can probably have that too. Though I'm not sure that "big and loud" is quite her style. It's equally possible that she will take over European foreign policy-but so quietly and so politely that no one will notice.
Every weekday JewishWorldReview.com publishes what many in the media and Washington consider "must-reading". Sign up for the daily JWR update. It's free. Just click here.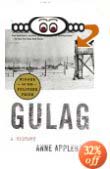 APPLEBAUM'S LATEST
Gulag: A History
Nearly 30 million prisoners passed through the Soviet Union's labor camps in their more than 60 years of operation. This remarkable volume, the first fully documented history of the gulag, describes how, largely under Stalin's watch, a regulated, centralized system of prison labor-unprecedented in scope-gradually arose out of the chaos of the Russian Revolution. Fueled by waves of capricious arrests, this prison labor came to underpin the Soviet economy. JWR's Applebaum, a former Warsaw correspondent for the Economist and a regular contributor to the Wall Street Journal and the Washington Post, draws on newly accessible Soviet archives as well as scores of camp memoirs and interviews with survivors to trace the gulag's origins and expansion Sales help fund JWR.
Comment on JWR contributor Anne Applebaum's column by clicking here.

Previously:
10/20/09: Will the President of Europe Be a Gifted Pol or a Compromising Bureaucrat?
09/29/09:What Is Iran Afraid Of?
09/22/09: Letting Europe Drift
09/17/09: Greed and fear are proving stronger than companies' commitment to free speech
09/08/09: Will Obama Fight For Afghanistan?
09/01/09: The Polish Prologue
08/20/09: Why Afghans Need a Vote
07/29/09: No Burqa For Clinton
07/14/09: The Summit of Green Futility
07/09/09: Obama Puts Medvedev Ahead of Putin
06/30/09: In Morocco, an alternative to Iran
06/23/09: An overlooked force in Iran
06/16/09: Some good in a bad election
06/09/09: Why Is the Right Doing So Well in Europe?
06/02/09: Is China Pulling Strings in North Korea?
05/26/09: What a Member of Parliament Deserves
04/22/09: The Twitter Revolution That Wasn't
04/14/09: Do we really need interactive exhibits to bring Jefferson to life?
04/07/09: No Nukes? No Thanks: Obama's odd obsession with universal nuclear disarmament
03/31/09: What's Loud, Unnecessary, and Costs $75 Million?
03/23/09: Ctrl-Alt-Diplomacy
03/03/09: European Disunion
02/24/09: Who cares what Hillary Clinton says to China's leaders about human rights?
02/17/09: Witless protection
02/10/09: Our Ticket Out of Afghanistan
01/27/09:Why some foreigners can't believe Obama won the presidency fair and square
01/20/09: A Flight Test for All of Us
01/14/09: Europe's New Cold War
01/07/09: Pointless Peace Proposals
12/30/08: The magnificent rhetorical legacy of the Founding Fathers
12/23/08: Do riots in Athens portend demonstrations in Paris and Cincinnati?
12/16/08: Breach of Trust: Bernard Madoff's massive fraud will cripple American capitalism
12/09/08: In praise of charismatic politicians
12/03/08: Moscow's Empire of Dust
11/20/08: Getting Past Mythmaking In Georgia
11/12/08: In Praise of Political Rock Stars
10/03/08: Election Day myths you must resist
09/30/08: Not just a metaphor: Lehman Brothers was economic's 9/11
09/04/08: Class of '64
08/28/08: Did Hillary really help the Barack cause?
08/27/08: 'Show of Power,' Indeed
08/19/08: What Is Russia Afraid Of?
08/13/08: When China Starved
08/11/08: Two of the world's rising powers are strutting their stuff
08/05/08: How Alexander Solzhenitsyn's The Gulag Archipelago changed the world
07/29/08:'The Hour of Europe' Tolls Again … But are European politicians up to the task?
07/15/08: Why Does Obama Want To Campaign in Berlin?
07/01/08: Citizen Athletes: How did a guy who can't speak Polish end up scoring Poland's only goal of Euro 2008?
06/24/08: Why do we expect presidential candidates to be kind?
06/17/08: Pity the Poor Eurocrats
06/12/08: Is the World Ready for a Black American President?
05/28/08: The Busiest Generation: America seems to value its children's status and achievements over their happiness
05/20/08: Leave Hitler Out of It: The craze for injecting the Nazis into political debate must end
05/13/08: A Drastic Remedy: The case for intervention in Burma
05/07/08: A Warning Shot From Moscow?
04/23/08: Radio to stay tuned to
04/17/08: China learns the price of a few weeks of global attention
04/01/08: Head scarves are potent political symbols
03/26/08: The Olympics are the perfect place for a protest
03/19/08: Could Tibet bring down modern China?
03/12/08: Have political autobiographies made us more susceptible to fake memoirs?
03/05/08: Why does Russia bother to hold elections?
02/20/08: Kosovo is a textbook example of the law of unintended consequences
02/06/08: A Craven Canterbury Tale
02/06/08: French prez' whirlwind romance reminds voters of his political recklessness

© 2009, Anne Applebaum. By permission of the author
Columnists
Toons
Lifestyles