Jewish World Review Oct. 11, 2005 / 8 Tishrei, 5766
New Orleans recovering faster than Anderson Cooper
By Andy Borowitz
Newsman still sobbing one month after Katrina, federal officials say
http://www.JewishWorldReview.com | Government officials supervising the rebuilding of New Orleans after the devastation of Hurricane Katrina last month said today that the city is beginning to recover, but that the same could not be said about CNN anchor Anderson Cooper.

"He began sobbing uncontrollably weeks ago and he has not let up," said Harley Trestman, an official with the Federal Emergency Management Agency. "We regard the situation with Anderson Cooper as still very, very serious."

Mr. Trestman said that his agency was doing everything in its power to rebuild Mr. Cooper's emotional state, but progress had been slower than had been hoped, adding, "He could blow at any moment."

Pressure has been mounting on the Federal government in recent weeks to declare a state of emergency regarding Mr. Cooper, an unprecedented move since it would be the first time such a designation was accorded a cable news anchorman.

If the government were to take the step of declaring Mr. Cooper a disaster area, however, it would give FEMA the ability to send an emergency shipment of tissues to the lachrymose anchor, as well as a "Feel Better Bear" from 1-800-FLOWERS.

While some have criticized FEMA for not anticipating Mr. Cooper's crying jag, Mr. Trestman regards such carping as unfair.

"The Anderson Cooper situation has been extraordinary in the annals of sobbing," he said. "We really haven't seen anything like this since Halle Berry won the Academy Award."

Elsewhere, singer Boy George and model Kate Moss each agreed to perform 200 hours of community service, acting as drug-sniffing British celebrities at Heathrow Airport.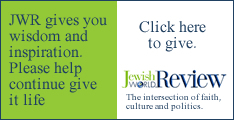 Every weekday JewishWorldReview.com publishes what many in in the media and Washington consider "must-reading". Sign up for the daily JWR update. It's free. Just click here.

Comment by clicking here.
JWR Contributor Andy Borowitz, the first-ever recipient of the National Press Club's Award for Humor, is a former president of the Harvard Lampoon,and a regular humor columnist for Newsweek.com, The New Yorker, The New York Times and TV Guide. Recognized by Esquire magazine as one of the most powerful producers in television, he was the creator and producer of the hit TV series The Fresh Prince of Bel-Air and producer of the Oscar-nominated film Pleasantville.

© 2005, Andy Borowitz