Jewish World Review Oct. 21, 2003 / 25 Tishrei, 5764
How to be a Muslim moderate
By Zev Chafets
An Islamic leader camouflages some truth-telling about the Islamic world with anti-Semitic lies
http://www.jewishworldreview.com | On Thursday, Malaysian Prime Minister Mahathir Mohamad made headlines by charging that a Jewish conspiracy controls the planet.
"The Europeans killed 6 million Jews out of 12 million, but today the Jews rule the world by proxy," he told the leaders and representatives of 57 Islamic nations who were gathered in Putrajaya, Malaysia, for their biggest summit meeting since 9/11.
"We are up against a people who think. They invented socialism, communism, human rights and democracy so that persecuting them would appear to be wrong, so that they can enjoy equal rights with others. With these, they have gained control of the most powerful countries."
Naturally, this screed elicited loud protests from Jewish leaders and Western governments. A State Department spokesman denounced the remarks as "offensive and inflammatory" and said the U.S. government views them "with the contempt and derision they deserve."
On the other hand, Mahathir received a standing ovation from his Islamic colleagues. Supposed moderates cheered along with everyone else. Afghan President Hamid Karzai praised the speech as an "an eyeopener."
"It is great to hear Prime Minister Mahathir speak so eloquently on the problems of the Muslim world and ways to remedy them," he told reporters after the speech.
How could Karzai, an American client of surpassing moderation, laud such a paranoid rant? The answer, I think, is that Karzai heard a different speech than the one reported in the press — a rather subversive speech camouflaged by the virulent anti-Jewish rhetoric that typifies all Islamic gatherings.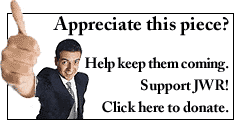 Indirectly, cautiously but unmistakably, Mahathir informed his guests that the Muslims are too weak to fight, that the jihad — from Palestine to Putrajaya — is a disaster and the Muslims have no one to blame but themselves.
Given the low state of the Islamic world, this may seem self-evident. But saying it out loud at an Islamic summit is a rare act of intellectual honesty.
"There is a feeling of hopelessness among the Muslim countries and their people," Mahathir said. "They feel they can do nothing right. They believe that things can only get worse."
This sense of failure has, he noted, bred violent frustration. "Our only reaction is to become more and more angry, and so we find some of our people acting irrationally. They launch their own attacks, killing just about everybody, including fellow Muslims."
What was he talking about? The attacks of Al Qaeda certainly, but also the Palestinian intifadeh.
Mahathir denounced the behavior of would-be martyrs as "irresponsible and un-Islamic acts" — a characterization that brought him to the very brink of what is acceptable speech at a Muslim summit.
Which is where the Jews come in.
Mahathir wasn't quite willing to say that jihad is inherently an uncivilized mode of expression. Instead, he framed the thought in practical terms. "We must not antagonize everyone," he said. "We must win their hearts and minds. ... We must not strengthen the enemy by pushing everyone into their camps."
The Malaysian prime minister was talking about more than improving Muslim public relations. In effect, he was calling upon his fellow leaders to leave the Middle Ages for the modern world. This means, in practice, breaking the grip of the clerics over political culture and, especially, education.
Mahathir didn't want to say explicitly that Islamic education is responsible for the current backwardness of Muslim societies. So he again invoked the practical benefit of secularism in the war against the Jews.
"We need guns and rockets, bombs and war planes, tanks and warships for our defense. But because we are discouraged from learning of science and mathematics as giving us no merit in the afterlife, we have no capacity to produce our own weapons for our own defense. We have to buy our weapons from our detractors and enemies," he said.
There was certainly something pathetic about Mahathir's speech — a Muslim leader ought to be able to advocate modernity and civilized behavior without justifying them as effective weapons against a mythical Jewish conspiracy.
Even more pathetic is the fact that this message still qualifies in post-9/11 Islamic circles as dangerously progressive. Most pathetic of all is that many statesmen cheered Mahathir's Elders of Zion claptrap.
Every weekday JewishWorldReview.com publishes what many in Washington and in the media consider "must reading." Sign up for the daily JWR update. It's free. Just click here.
JWR contributor Zev Chafets is a columnist for The New York Daily News. Comment by clicking here.
© 2003, New York Daily News