Jewish World Review Sept. 30, 2008 / 30 Elul 5768
Not just a metaphor: Lehman Brothers was economic's 9/11
By Anne Applebaum


http://www.JewishWorldReview.com | It's very odd to be an American abroad at the moment, reading the headlines in the Herald Tribune, watching CNN report live from Wall Street, waiting for the next piece of bad news.

Ever since the dollar started sinking a year or two ago, those of us who live outside the country have felt as if we were slowly being abandoned by the Mother Ship. Would there be anything left when we next paid a visit to our native land? Or would the world's new wealthy, from Dubai and China, have bought the place up?

But now the ship isn't just sinking, it might well be gone. And it isn't easy to find words to describe how this makes Americans feel, whether they are at home or abroad.

The September 11 metaphor is a weary one: too many events, in recent years, have been described as "a new September 11", or "England's September 11", or even "football's September 11". Still, it might be worth rescuing the phrase one last time.

For if September 11, 2001 was the day that we had to reassess our ideas about America's role in world politics, September 15, 2008, the day Lehman Brothers went bankrupt, may well be remembered as the day we had to reassess our ideas about America's role in the world economy. It's that cataclysmic, that decisive, that irreversible.

Yet while they may eventually be seen as equally damaging, the two events have had a diametrically different impact on our national psyche.

September 11 inspired a national display of unity: Americans mourned together, waved flags together, supported their politicians' attempts to come up with a proper response. In retrospect, it was an extraordinarily bipartisan, even apolitical moment: in the autumn of 2001, there were no significant differences between Democrats and Republicans in their attitudes to the terrorist attacks, though of course those did emerge later on.

September 15, by contrast, divided Americans, immediately and bitterly.

I don't think there's been such a torrent of abuse lobbed at Wall Street since the 1930s. "Greedy" was the nicest thing being said about the "speculators" and "asset-strippers" who are reckoned to have caused the whole mess.

While Democrats blamed "eight years of irresponsibility", furious Republicans, damning Bush's proposed bail-out as "un-American", took aim at their own president, and the presidential candidates became embroiled in the mess.

The fury reached a pinnacle on Friday when Congress suddenly rebelled and refused to rubber-stamp the proposed $700 billion deal. Surely the climax of the day, and possibly the low point in the eight years of the Bush administration, was the moment when the Treasury Secretary, Henry Paulson, got down on his knees in front of Nancy Pelosi, the Speaker of the House of Representatives, and begged her not to block the plan.

There are many reasons why the Wall Street spectacle has created so much antagonism while the World Trade Centre attacks created so much unity, but two matter in particular.

The first concerns what can only be called comprehensibility. Everyone watched those planes hit the skyscrapers, and everyone understood what it meant. By contrast, I don't believe many American congressmen, let along many American voters, really understand the credit crisis, or why it is unravelling so fast.

Nor, let's face it, do many people really understand the proposed bail-out deal. What does a sum like $700 billion, a number apparently plucked out of the air, actually mean? And why didn't the people who now say they know how to spend it do something to prevent the current crisis from happening in the first place?

Things might be different if the nation were led, at the moment, by an administration with a reputation for honesty and competence.

But this, too, is different: in 2001, President Bush still had the support of the majority of the nation, and thus had a wide mandate to deal with the post-9/11 crisis. He no longer has that support and he no longer has that mandate. No one any longer trusts his administration's military and foreign policy leaders. Why should we trust his administration's financial appointees either?

Myself, I think it's too early to say that these events spell the end of American economic dominance: it's just as likely, after all, that they spell an end to the era of post-Cold War prosperity, not just for the US but for everyone else too.

The whirlpool that appears to be sucking down the world's financial companies, one by one, will eventually engulf even China and Dubai, if for no other reason than that Americans are going to stop buying the consumer goods and burning the oil they can no longer afford.

If only fixing the problem were as simple as invading Kabul, or bombarding Osama's headquarters at Tora Bora. But it's not.
Every weekday JewishWorldReview.com publishes what many in the media and Washington consider "must-reading". Sign up for the daily JWR update. It's free. Just click here.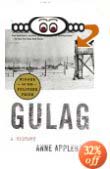 APPLEBAUM'S LATEST
Gulag: A History
Nearly 30 million prisoners passed through the Soviet Union's labor camps in their more than 60 years of operation. This remarkable volume, the first fully documented history of the gulag, describes how, largely under Stalin's watch, a regulated, centralized system of prison labor-unprecedented in scope-gradually arose out of the chaos of the Russian Revolution. Fueled by waves of capricious arrests, this prison labor came to underpin the Soviet economy. JWR's Applebaum, a former Warsaw correspondent for the Economist and a regular contributor to the Wall Street Journal and the Washington Post, draws on newly accessible Soviet archives as well as scores of camp memoirs and interviews with survivors to trace the gulag's origins and expansion Sales help fund JWR.
Comment on JWR contributor Anne Applebaum's column by clicking here.

Previously:
09/04/08: Class of '64
08/28/08: Did Hillary really help the Barack cause?
08/27/08: 'Show of Power,' Indeed
08/19/08: What Is Russia Afraid Of?
08/13/08: When China Starved
08/11/08: Two of the world's rising powers are strutting their stuff
08/05/08: How Alexander Solzhenitsyn's The Gulag Archipelago changed the world
07/29/08:'The Hour of Europe' Tolls Again … But are European politicians up to the task?
07/15/08: Why Does Obama Want To Campaign in Berlin?
07/01/08: Citizen Athletes: How did a guy who can't speak Polish end up scoring Poland's only goal of Euro 2008?
06/24/08: Why do we expect presidential candidates to be kind?
06/17/08: Pity the Poor Eurocrats
06/12/08: Is the World Ready for a Black American President?
05/28/08: The Busiest Generation: America seems to value its children's status and achievements over their happiness
05/20/08: Leave Hitler Out of It: The craze for injecting the Nazis into political debate must end
05/13/08: A Drastic Remedy: The case for intervention in Burma
05/07/08: A Warning Shot From Moscow?
04/23/08: Radio to stay tuned to
04/17/08: China learns the price of a few weeks of global attention
04/01/08: Head scarves are potent political symbols
03/26/08: The Olympics are the perfect place for a protest
03/19/08: Could Tibet bring down modern China?
03/12/08: Have political autobiographies made us more susceptible to fake memoirs?
03/05/08: Why does Russia bother to hold elections?
02/20/08: Kosovo is a textbook example of the law of unintended consequences
02/06/08: A Craven Canterbury Tale
02/06/08: French prez' whirlwind romance reminds voters of his political recklessness

© 2008, Anne Applebaum