Jewish World Review Sept. 29, 2005 / 25 Elul, 5765
Brownie issues 2,000-page book of people he blames
By Andy Borowitz
Points finger at President, local officials, Angelina Jolie
http://www.JewishWorldReview.com | Following up his testimony to a panel of lawmakers on Tuesday, former FEMA chief Michael D. Brown today published a 2,000-page book of people he blames for the poor emergency response to the Hurricane Katrina disaster.

The book, entitled "People Other Than Me Who Should Be Blamed," has received mix reviews from the press, with the New York Times calling it "The Da Vinci Code of finger-pointing."

But Mr. Brown defended his decision to write the book, telling reporters, "My only regret is that I didn't have another 2,000 pages to blame more people."

The book contains the names of virtually every federal and local official, including President Bush and the Governor of Louisiana, but it also includes the New Orleans phone book in its entirety.

"Let's face it, the people of New Orleans took their merry time in getting out of there," Mr. Brown said.

The ex-FEMA chief also explained the surprising inclusion of actress Angelina Jolie on the list: "I'm sure she was on the minds of some of the male emergency workers and that made it harder for them to concentrate."

As for his future, Mr. Brown said that he resigned from FEMA to spend more time with his family, but acknowledged that because of poor planning it might take days or even weeks for him to reach his family.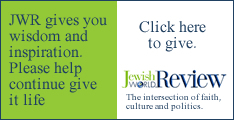 Every weekday JewishWorldReview.com publishes what many in in the media and Washington consider "must-reading". Sign up for the daily JWR update. It's free. Just click here.

Comment by clicking here.
JWR Contributor Andy Borowitz, the first-ever recipient of the National Press Club's Award for Humor, is a former president of the Harvard Lampoon,and a regular humor columnist for Newsweek.com, The New Yorker, The New York Times and TV Guide. Recognized by Esquire magazine as one of the most powerful producers in television, he was the creator and producer of the hit TV series The Fresh Prince of Bel-Air and producer of the Oscar-nominated film Pleasantville.

© 2005, Andy Borowitz