Jewish World Review Sept. 22, 2005 / 18 Elul, 5765
Kate Moss scores endorsement deal with Colombian drug cartel
By Andy Borowitz
Supermodel to become the new face of cocaine, says drug lord
http://www.JewishWorldReview.com | One day after published photos of her allegedly using cocaine caused retailer H & M to drop her from an upcoming advertising campaign, supermodel Kate Moss has already bounced back nicely, scoring an unprecedented seven-figure endorsement deal with Colombia's largest drug cartel.

According to those familiar with the deal, Ms. Moss signed a three-year contract for eight million dollars, with a street value of forty million.

The endorsement contract, believed to be the first ever offered by a major illegal drug ring, was announced today at the cartel's headquarters in Bogotá, Colombia.

Sitting at a table before a room packed with reporters, a somewhat dazed Ms. Moss was flanked by beaming members of the cartel's top management, including the international fugitive, drug lord Ricardo Diaz.

"This deal with Kate Moss is much, much more than an endorsement contract," said Mr. Diaz. "We have every intention of making Kate Moss the new face of cocaine."

After speaking expansively about the cartel's plans for Ms. Moss, Mr. Diaz turned over the press conference to the supermodel, who immediately excused herself to use the bathroom.

According to Dr. Davis Logsdon, who studies the advertising and marketing of illicit drugs at the University of Minnesota, the endorsement deal for Ms. Moss could spark a feeding frenzy as other illegal drug rings go after celebrity spokespersons.

"I would imagine that Courtney Love's phone is ringing off the hook right now," Dr. Logsdon said.

Elsewhere, North Korea withdrew its request that the world build it a nuclear reactor and instead asked the world to drop a nuclear reactor on South Korea.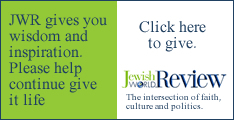 Every weekday JewishWorldReview.com publishes what many in in the media and Washington consider "must-reading". Sign up for the daily JWR update. It's free. Just click here.

Comment by clicking here.
JWR Contributor Andy Borowitz, the first-ever recipient of the National Press Club's Award for Humor, is a former president of the Harvard Lampoon,and a regular humor columnist for Newsweek.com, The New Yorker, The New York Times and TV Guide. Recognized by Esquire magazine as one of the most powerful producers in television, he was the creator and producer of the hit TV series The Fresh Prince of Bel-Air and producer of the Oscar-nominated film Pleasantville.

© 2005, Andy Borowitz