Jewish World Review Sept. 9, 2005 / 5 Elul, 5765
Barbara Bush relocated
By Andy Borowitz
Former First Lady moved to new location away from cameras, microphones
http://www.JewishWorldReview.com | Just days after former First Lady Barbara Bush made widely publicized remarks about people made homeless by Hurricane Katrina, the White House said today that Mrs. Bush had been moved to "a new location away from television cameras and microphones."

Mrs. Bush, who in talking about Katrina refugees said that "This is working very well for them" and that many of them "were underprivileged anyway," was transported to a facility where she will have plenty of food and water but no more media appearances, the White House confirmed.

"She will be much more comfortable in this new location, surrounded by armed guards on a 24-hour basis, than she was at her compound in Kennebunkport," said White House spokesman Scott McClellan. "This is working very well for her."

Responding to a reporter who questioned whether Mrs. Bush would be happy being uprooted from her estate, Mr. McClellan said, "She was overprivileged anyway."

While the White House took credit for its success in relocating Mrs. Bush, some congressional critics argued that it did not act quickly enough to relocate the outspoken former First Lady.

"This was an emergency situation," said Sen. Joseph Biden (D-Del). "They should have relocated her the minute she opened her piehole,"

For her part, the former First Lady remained out of view, but released the following official statement: "I am doing well, but I remain envious of those who were relocated after Hurricane Katrina — boy, do those folks have a sweet deal."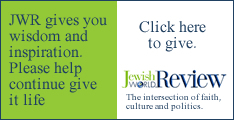 Every weekday JewishWorldReview.com publishes what many in in the media and Washington consider "must-reading". Sign up for the daily JWR update. It's free. Just click here.

Comment by clicking here.
JWR Contributor Andy Borowitz, the first-ever recipient of the National Press Club's Award for Humor, is a former president of the Harvard Lampoon,and a regular humor columnist for Newsweek.com, The New Yorker, The New York Times and TV Guide. Recognized by Esquire magazine as one of the most powerful producers in television, he was the creator and producer of the hit TV series The Fresh Prince of Bel-Air and producer of the Oscar-nominated film Pleasantville.

© 2005, Andy Borowitz