Jewish World Review Sept. 7, 2005 / 3 Elul, 5765
Blame game tied
By Andy Borowitz
Federal, local governments deadlocked in finger-pointing contest
http://www.JewishWorldReview.com | The ongoing blame game that began in the aftermath of Hurricane Katrina is officially tied, as Federal and local governments have each dished out identical amounts of blame, the official scorekeeper of the blame game said today.

The scorekeeper, Karl Chanswood, is president of the National Blame Game Association, an organization that for the past forty years has promoted the blame game as a professional sport and hopes to see it included someday in the Olympics.

Mr. Chanswood said that in the current blame game, state and local governments pulled out to an early lead over the Federal government.

"Based on the early going, I would have guessed that the state and local governments had this particular blame game in the bag," Mr. Chanswood said.

But after initially stumbling, he said, the Federal government stepped up their finger-pointing and pulled into a dead heat with their state and local rivals.

"I have to hand it to the White House," Mr. Chanswood said. "They were way behind in this finger-pointing contest, but then they really brought their 'A' game."

At the White House, spokesman Scott McClellan brushed aside criticism that the White House responded too slowly to being blamed by state and local governments and should have started returning the blame much sooner.

Mr. McClellan pointed out that President Bush had recently authorized the release of the Strategic Blame Reserves, an emergency supply of blame that is used only in times of national crisis: "That's a sign of how seriously we take winning this blame game."

Elsewhere, after a new study showed that two-year-olds mimic their parents' smoking habits, singer Art Garfunkel's two-year-old was busted by police.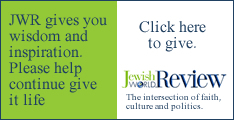 Every weekday JewishWorldReview.com publishes what many in in the media and Washington consider "must-reading". Sign up for the daily JWR update. It's free. Just click here.

Comment by clicking here.
JWR Contributor Andy Borowitz, the first-ever recipient of the National Press Club's Award for Humor, is a former president of the Harvard Lampoon,and a regular humor columnist for Newsweek.com, The New Yorker, The New York Times and TV Guide. Recognized by Esquire magazine as one of the most powerful producers in television, he was the creator and producer of the hit TV series The Fresh Prince of Bel-Air and producer of the Oscar-nominated film Pleasantville.

© 2005, Andy Borowitz