Jewish World Review Sept. 2, 2003 / 5 Elul, 5763

Joe Scarborough
Why send post-war help with so much opposition to U.S.?
http://www.NewsAndOpinion.com | The word out of the State Department is that Colin Powell and his troops are feverishly working to get a new U.N. resolution to get the U.N. involved in postwar Iraq. All I can say is, good luck. Why? Because the U.N. is filled with countries who simply hate America. And I got to tell you something else. Not only do they hate America. They would love to see nothing more than America fail in Iraq.
France, they've got their reasons. They had lucrative financial deals with Saddam Hussein and the United States' victory cost them billions and billions of dollars. And, of course, then there was Syria, a fellow Baathist regime who sat in judgment of America on the United Nations Security Council. Do you think they want us to succeed? And what about Libya, why, that famous arbiter of human rights who sits as a chairman of the U.N. Human Rights Council? Oh, but by the way, they just admitted to blowing up hundreds of civilians on a commercial airplane.
And let's ask a bigger question. Why do we really want the United Nations to get involved, when they have such a lousy track record? Did they stop a million deaths in Rwanda in the '90s? Did they stop two million deaths in the Sudan in the '90s? Did they stop the bloodshed in Bosnia? The answer is no, no and no.
How did they do this past fall? I'm telling you, it was a three-ring circus in the United Nations. They have proven themselves to be obsolete and out of date. And the only question is, why should the United States drag itself down even more by associating itself with an international body that no longer represents democratic values and no longer can succeed on the world stage?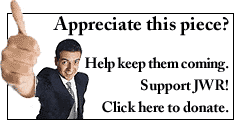 Every weekday JewishWorldReview.com publishes what many in Washington and in the media consider "must reading." Sign up for the daily JWR update. It's free. Just click here.


Former Congressman Joe Scarborough (R-Fla.) hosts "Scarborough Country," 10 p.m. ET, weeknights on MSNBC. Comment by clicking here.
08/29/03: Alabama outcry is downright wrong
08/28/03: Time for feds to pull the trigger on a new law
08/27/03: No easy access for foreigners
08/18/03: How we don't take care of our troops: It's a national disgrace
08/07/03: Making good on our promises
08/05/03: Don't deal with thugs
08/04/03: The Buzz
08/02/03: Bush is 'The Real Deal'
07/31/03: Liberal hypocrisy at its worst
07/30/03: 'The Real Deal' on Worldcom/MCI
07/24/03: Burying an Iraqi myth
07/22/03: How my mom would prosecute the Kobe case
07/18/03: The U.N. and gun control
07/17/03: Impeaching Bush
07/15/03: NAACP is getting a tax-free ride
07/14/03: No wonder most Americans hate politics
07/13/03: This time, Robertson did it to himself
07/11/03: Iraq uranium flap: What did Congress know and when did they know it?
07/10/03: Turning a blind eye to corporate crimes and playing fast and loose with your money
07/09/03: Crime pays if you're wearing a white collar
07/08/03: And freedom continues to ring
07/03/03: 'The Real Deal' on amnesty for illegal aliens
07/02/03: Free the Dog!
07/01/03: A letter-writing campaign can work wonders
06/27/03: More bad news for the Bush haters
06/26/03: Cancer or arousal?
06/25/03: Will institutional — and, now, governmemt-endorsed — racism ever end?
06/23/03: Held in Saudi Arabia against their will --- for oil!?
06/20/03: They're organizing to prohibit police from pursuing criminal suspects who refuse to stop
06/19/03: What burglars know about the Second Amendment
06/18/03: CBS courtship of Pfc. Lynch: Big media tries to win the heart of a teenage girl
06/13/03: 'The Real Deal' on White House hypocrisy
06/12/03: What's wrong with the way policy is made in Washington, D.C.?
06/11/03: 'The Real Deal' on Hillary and media double standard
06/09/03: Not in Babs' backyard!
06/06/03: 'The Real Deal' on Hillary's book deal
06/05/03: The way we get our news has been altered forever
06/04/03: 'The Real Deal' on the Martha Stewart witch hunt: Making a big deal while others get away
06/03/03: 'The Real Deal' on Sean Penn's screed
06/02/03: "Alternative-lifestyle bachelor"?
05/30/03: Amnesty International makes U.S. the number one human rights villain
05/29/03: Why do we ignore home grown terrorism?
05/23/03: Bizarre Blair
05/21/03: 'Capitol Offense'
05/20/03: A life in jail for 'conduct unbecoming'!?
05/19/03: You spoke, MCI listened
05/16/03: 'The Real Deal' on the Democrat attacks: Tasteless, and also untrue
05/15/03: 'Capitol Offense' goes postal
05/14/03: L.A. Times Book awards honor a child abuse manual
05/13/03: Reporter spills the beans on media's bias in covering Iraq
05/12/03: Danny Glover's supporters start letter writing campaign with ugly, racial overtones
05/09/03: Berkeley's Center for Middle East Studies funded by al Qaeda financial supporter?
05/08/03: Why they love Castro
05/07/03: Book industry finally opening doors to conservatives
05/06/03: 'The Real Deal' on ABC News: Another media insider expose
05/05/03: Why, despite recent successes, re-election is not a sure thing
05/02/03: 'Capitol Offenses'
05/01/03: 'The Real Deal' on Hillary Clinton
04/30/03: The Iraq-al Qaida link: The elitists were wrong
04/29/03: Shiites biting the hand that released them
04/28/03: What the capitulation of Iraqi Deputy Prime Minister, Tariq Aziz, means for the rest of the world's tyrants
04/25/03: Noble-sounding names mask political motives
04/22/03: Bill Clinton should heed Paul McCartney's advice
04/21/03: The president with an I.Q. of a pot of clay has made New York City elitists look like a bunch of bumbling idiots
04/16/03: Russia, France and Germany: Not stupid, just immoral
04/15/03: CNN's too little, too late apology
04/14/03: Who's the first elitist to admit they were wrong about the war?
04/10/03: He's baaack --- and his terror tactics deserve an 'F'
04/09/03: Iraqi lawyer and American teenaged girl proved themselves to be 'The Real Deal'
© 2003, MSNBC