Jewish World Review Sept. 9, 2003 / 12 Elul, 5763
Will American Jewry be silent about religious discrimination?
By Nathan J. Diament


http://www.jewishworldreview.com | The organized Jewish community has an opportunity to announce whether it will continue to insist that the U.S. Constitution demands government discrimination against religion. The Supreme Court will address this question head on this autumn in the case of Locke v. Davey.
Joshua Davey graduated from high school in 1999. He was in the top 10% of his class and came from a low-income family. These two facts won him a Washington State "Promise Scholarship" of $2,600 to be used toward his expenses in attending an accredited in-state college. In a congratulatory letter sent to Davey, Washington's Governor Gary Locke commended him on his achievement and noted that the purpose of the Promise Scholarship program was the state's interest in ensuring that "education…the great equalizer in our society" was more available Washington's students "regardless of gender, race, ethnicity or income…" But when Davey notified the state's Higher Education authority that he intended to pursue a double major in religious studies and business administration at Northwest College - a Christian college duly accredited by the state, his scholarship award was revoked.
Washington, like 37 other states, has a provision in its state constitution that is a broader ban on any form, even the most remote and indirect, of state support for religion than the federal constitution's Establishment Clause. This more aggressive language is unsurprising when one learns that these state provisions are known as "Blaine Amendments," linked to the late-1800s American anti-Catholic movement led by Senator James Blaine of Maine. Ironically, the anti-Catholic sentiment of that period arose from the fact that the growing community of Catholics in America objected to the Protestant doctrines that were taught in the publicly-funded schools and sought state funds to support the creation of Catholic schools. Hence, these provisions typically state that "No revenue of the state….shall be taken from the public treasury…in aid of any…religious denomination or in aid of any sectarian institution."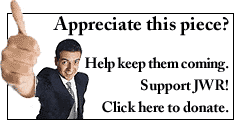 Putting aside the tainted lineage of these state constitutional provisions, the real issue in the Davey case is a straightforward one - whether Washington State's explicit discrimination against this student on the grounds that he chose to use his scholarship, awarded on the basis of neutral criteria for the secular purpose of promoting education, to study religion rather than science, literature or any other academic field, is legitimized by the dogmatic demand of strict separation of religion and state.
Analogous questions have been raised recently by federal regulatory reforms made pursuant to President Bush's "faith based initiative." Until last December, the Federal Emergency Management Agency (FEMA) had a policy under which it would deny federal disaster assistance to religious institutions. Thus, when Seattle's Jewish community day school suffered terrible damage in an earthquake 3 years ago, it was denied the federal funds for which it applied to repair its building, while those same sorts of funds were being used to repair offices, apartments and all other kinds of structures, solely on the basis that the school is a religious one. To its credit (?), Seattle's Jewish community put aside the traditional dogma on the church-state question and we worked in partnership with them to bring this inequity to the attention of the White House. Thankfully, President Bush ordered FEMA to change its policy and the Seattle Hebrew Academy will be receiving more than $1 million in aid this summer.
More recently, the federal Department of the Interior announced it would change its policy automatically excluding historically landmarked religious buildings from a program which awards grants to assist in historic preservation repairs. Despite the recognition by most people that Newport's Touro Synagogue and Boston's Old North Church are national treasures, as worthy of landmarking and preservation as any secular historic site, those who hew to the mantra of strict separation would have congregations associated with historic houses of worship such as these fend for themselves to upkeep those sites, again solely because of their religious affiliation.
In each of these instances, like Joshua Davey's case, the fundamental question before us is whether we will insist upon the government's neutrality toward religion - neither unduly favoring religion nor discriminating against it, or whether we will demand a policy of unequal treatment, ie: discrimination by government with regard to religion and its institutions.
The Jewish community, on the basis of its values and interests, should stand for the principles of equality, fairness and non-discrimination with regard to government's interaction with religious institutions. We cannot continue to believe that the disparate treatment of all things religious while secularist ideologies run rampant is consistent with our value system and our ability to impart those values to our children. Also, do we indeed wish to forego any public support for our community's institutions in an era of shrinking resources and increasing needs?
Which side is our community on?
Every weekday JewishWorldReview.com publishes what many in uplifting articles. Sign up for the daily JWR update. It's free. Just click here.
Nathan J. Diament is the director of public policy for the Union of Orthodox Jewish Congregations of America, which filed a brief in support of Joshua Davey. Comment by clicking here.
© 2003, Nathan J. Diament