Jewish World Review Sept. 16, 2003 / 19 Elul, 5763
Having a Jewish wife won't save Dean
By Zev Chafets

Dean and wife. Many Jews aren't laughing at his latest outburst
http://www.jewishworldreview.com | Last week, in the presidential free-for-all in Baltimore, Sen. Joseph Lieberman (D-Conn.) blasted Dean for saying during a campaign stop a few days earlier that he wouldn't take sides in the Middle East. Dean added that he'd be "evenhanded," which in standard State Department English means pro-Palestinian. Later, Dean pleaded ignorance of the significance of the coded phrase.

If so, his lack of diplomatic sophistication makes the pre-presidential George W. Bush look like Henry Kissinger.

Lieberman also accused the Vermont Volcano of breaking a tradition of bipartisan presidential support for the Jewish State that goes back to Harry Truman.

This is false, as Lieberman certainly knows. There is no such tradition.

Yes, President Truman recognized Israel — it was three years after the Holocaust, what was he supposed to do? — but he withheld military aid when it was most needed, during Israel's War of Independence.

Dwight Eisenhower sided with the Arabs in the 1956 Suez crisis. John Kennedy traveled to New York to meet Israeli Prime Minister David Ben-Gurion because he didn't want to greet him at the White House.

The first openly pro-Israel President was Lyndon Johnson. Richard Nixon didn't care for Jews but supported Israel in the 1973 war.

George Bush was strictly House of Saud. During the Gulf War, Bush sat back and let Israeli cities get splattered with Iraqi Scud missiles. His son, George W., it should be said, is the most pro-Israeli President in history.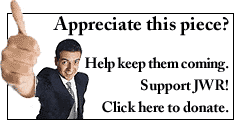 Dean has denounced Lieberman's complaint as "despicable" and proclaimed himself to be a friend of Israel in the mode of Bill Clinton. Nice try. Clinton, who served at a time of apparent peacemaking, did take on the role of honest broker, but he did it with Israel's blessing. Nobody in Jerusalem ever seriously doubted Clinton's essential sympathy and support.
Dean looks a lot less like Clinton than like Jimmy Carter, the President most associated with what Dean calls "the Democratic wing of the Democratic Party." Carter, an instinctive appeaser and champion of Third World dictatorships, took the Arab side in the dispute over the West Bank and Gaza, labeled Israeli settlements illegal and generally tried to turn American public opinion against Israel.
Dean's unmistakable ideological resemblance to Carter won't help the Vermont Democrat among supporters of Israel.
Here's a hint to the Dean campaign: He won't be able to hide behind Bill Clinton — or Dr. Judith Steinberg.
On a campaign stop in Iowa, Dean was asked by a woman named Norma Jean Sharp about his position on Israel. According to The Weekly Standard, Dean replied, "They'll be all right. ... I'm not going to let anything happen to Israel. My wife is Jewish."
Jewish relatives are a dime a dozen in this year's Democratic field, from John Kerry's long-lost grandparents to Wesley Clark's departed Yiddishe papa. Heck, even Joe Lieberman has a Jewish wife.
Besides, marriage is a thin reed these days. As far as I know, Dean and Steinberg are as solid as Ma and Pa Kettle. But let's face it — these days, half of all marriages wind up in divorce.
What if Steinberg decides she doesn't want to be First Lady and takes a hike? What if a despondent President Dean falls for Queen Noor (she likes short guys) or Hanan Ashrawi or one of the Dixie Chicks?
Improbable, okay, but matrimony makes strange bedfellows (look at Phil Bronstein and Sharon Stone).
And it is not much of a basis for a Middle East policy, either.
Every weekday JewishWorldReview.com publishes what many in Washington and in the media consider "must reading." Sign up for the daily JWR update. It's free. Just click here.
JWR contributor Zev Chafets is a columnist for The New York Daily News. Comment by clicking here.
© 2003, New York Daily News