Jewish World Review August 20, 2009 / 30 Menachem-Av 5769
Why Afghans Need a Vote
By Anne Applebaum


http://www.JewishWorldReview.com | It minced no words, the Taliban, in the leaflets that it scattered across southern Afghanistan last weekend. In one of the missives, the Taliban threatened to cut off the noses and ears of anyone who dared to vote in today's presidential election. Another leaflet said that anyone whose fingers were stained with ink — a sign that someone has voted — risked losing those, too. A third said "respected residents" should think twice about entering polling booths because they would risk becoming "a victim of our operations." Don't vote, in other words, or we'll blow you up.

It was a stark message, but in one sense a very useful one. Sometimes, when one stares too long at Afghanistan, all one sees are tangled webs of complexity: hundreds of ethnic groups; dozens of languages; political clans pulled in different directions by corruption, drugs and billions of dollars of Western aid. As a result, even people who have been there a long time have trouble defining who, exactly, we are fighting against. The Taliban is sometimes described as an ideological force, sometimes as a loose ethnic coalition, sometimes as a band of mercenaries — men who fight because they don't have anything else to do. But perhaps with this election, we can start to use a narrower definition: The Taliban is the organization that wants to blow up polling stations.

The threat is useful in another sense: It reminds us of what we are fighting for — by which I don't simply mean "democracy." We are not trying to create some kind of Jeffersonian idyll in the rugged heart of Central Asia, after all, but an Afghan government that is recognized as legitimate by the majority of Afghans — a government that can therefore prevent the country from turning back into a haven for terrorist training camps. If there were someone acceptable to all factions, we might presumably consider helping the Afghans restore the monarchy. For that matter, if the Afghans were willing to accept an appointed American puppet, we might, I suspect, consider that, too, at this point. But there isn't, and they won't. Which means that democratic elections — which the majority of Afghans support — are the only means of establishing any Afghan government's legitimacy. It isn't that we are setting the bar "too high" by holding elections in Afghanistan; it's that we don't have anything better to offer.

And that is why the Taliban is trying to scare Afghanistan's voters. It won't be able to stop the elections altogether, and it won't be able to shut down all the polling stations. But that isn't the Taliban's intent: Its goal is to make the elections appear illegitimate, so that doubts about the president's right to rule will haunt the winner throughout his term of office. If it can lower the turnout dramatically in the southern part of the country; if it can intimidate women and prevent them from voting; if it can cast a shadow over the fairness of the counting; above all, if it can convince Afghans that the election was inconclusive, it will have achieved a great deal.

Without doubt, whoever wins carries baggage. Hamid Karzai, the current president, has many detractors (who accuse him of corruption) and a few admirers (who think he is a conciliator). Ashraf Ghani, the former finance minister, is a brilliant economist but somewhat remote from ordinary Afghans. Abdullah Abdullah, the former foreign minister, Ramazan Bashardost, the former planning minister, and all of the other 41 candidates have their pluses and minuses, but that isn't the point: It doesn't matter who wins. It matters how the victor wins and that the outcome is accepted by most Afghans.

The American and NATO troops who will guard polling stations this week are crucial to that outcome. So are the efforts of Radio Free Afghanistan, which co-sponsored the country's first live, televised presidential debate this week. (The station director, Akbar Ayazi, described the process of persuading candidates to participate as so difficult that "I could take people to Mars probably by now.")

All of that, however, pales next to the importance of what we do after the voting. Our policy — meaning, that of the Western world and the United Nations — must be to endorse and support whichever candidate emerges the legitimate winner, lending the victor further credibility and weakening further the Taliban leaders who opposed the election. We should do what we can (not much, I realize) to encourage Afghanistan's neighbors — Iran, Russia, Pakistan — to do the same. And if, for any reason, a legitimate president does not emerge? Then the tangled webs will once again unfurl themselves, the clans and the tribes and the paid mercenaries will start choosing sides, the people who blow up polling stations will have gained credibility — and we will have to think hard about whether to stay in Afghanistan at all.
Every weekday JewishWorldReview.com publishes what many in the media and Washington consider "must-reading". Sign up for the daily JWR update. It's free. Just click here.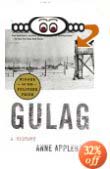 APPLEBAUM'S LATEST
Gulag: A History
Nearly 30 million prisoners passed through the Soviet Union's labor camps in their more than 60 years of operation. This remarkable volume, the first fully documented history of the gulag, describes how, largely under Stalin's watch, a regulated, centralized system of prison labor-unprecedented in scope-gradually arose out of the chaos of the Russian Revolution. Fueled by waves of capricious arrests, this prison labor came to underpin the Soviet economy. JWR's Applebaum, a former Warsaw correspondent for the Economist and a regular contributor to the Wall Street Journal and the Washington Post, draws on newly accessible Soviet archives as well as scores of camp memoirs and interviews with survivors to trace the gulag's origins and expansion Sales help fund JWR.
Comment on JWR contributor Anne Applebaum's column by clicking here.

Previously:
07/29/09: No Burqa For Clinton
07/14/09: The Summit of Green Futility
07/09/09: Obama Puts Medvedev Ahead of Putin
06/30/09: In Morocco, an alternative to Iran
06/23/09: An overlooked force in Iran
06/16/09: Some good in a bad election
06/09/09: Why Is the Right Doing So Well in Europe?
06/02/09: Is China Pulling Strings in North Korea?
05/26/09: What a Member of Parliament Deserves
04/22/09: The Twitter Revolution That Wasn't
04/14/09: Do we really need interactive exhibits to bring Jefferson to life?
04/07/09: No Nukes? No Thanks: Obama's odd obsession with universal nuclear disarmament
03/31/09: What's Loud, Unnecessary, and Costs $75 Million?
03/23/09: Ctrl-Alt-Diplomacy
03/03/09: European Disunion
02/24/09: Who cares what Hillary Clinton says to China's leaders about human rights?
02/17/09: Witless protection
02/10/09: Our Ticket Out of Afghanistan
01/27/09:Why some foreigners can't believe Obama won the presidency fair and square
01/20/09: A Flight Test for All of Us
01/14/09: Europe's New Cold War
01/07/09: Pointless Peace Proposals
12/30/08: The magnificent rhetorical legacy of the Founding Fathers
12/23/08: Do riots in Athens portend demonstrations in Paris and Cincinnati?
12/16/08: Breach of Trust: Bernard Madoff's massive fraud will cripple American capitalism
12/09/08: In praise of charismatic politicians
12/03/08: Moscow's Empire of Dust
11/20/08: Getting Past Mythmaking In Georgia
11/12/08: In Praise of Political Rock Stars
10/03/08: Election Day myths you must resist
09/30/08: Not just a metaphor: Lehman Brothers was economic's 9/11
09/04/08: Class of '64
08/28/08: Did Hillary really help the Barack cause?
08/27/08: 'Show of Power,' Indeed
08/19/08: What Is Russia Afraid Of?
08/13/08: When China Starved
08/11/08: Two of the world's rising powers are strutting their stuff
08/05/08: How Alexander Solzhenitsyn's The Gulag Archipelago changed the world
07/29/08:'The Hour of Europe' Tolls Again … But are European politicians up to the task?
07/15/08: Why Does Obama Want To Campaign in Berlin?
07/01/08: Citizen Athletes: How did a guy who can't speak Polish end up scoring Poland's only goal of Euro 2008?
06/24/08: Why do we expect presidential candidates to be kind?
06/17/08: Pity the Poor Eurocrats
06/12/08: Is the World Ready for a Black American President?
05/28/08: The Busiest Generation: America seems to value its children's status and achievements over their happiness
05/20/08: Leave Hitler Out of It: The craze for injecting the Nazis into political debate must end
05/13/08: A Drastic Remedy: The case for intervention in Burma
05/07/08: A Warning Shot From Moscow?
04/23/08: Radio to stay tuned to
04/17/08: China learns the price of a few weeks of global attention
04/01/08: Head scarves are potent political symbols
03/26/08: The Olympics are the perfect place for a protest
03/19/08: Could Tibet bring down modern China?
03/12/08: Have political autobiographies made us more susceptible to fake memoirs?
03/05/08: Why does Russia bother to hold elections?
02/20/08: Kosovo is a textbook example of the law of unintended consequences
02/06/08: A Craven Canterbury Tale
02/06/08: French prez' whirlwind romance reminds voters of his political recklessness

© 2009, Anne Applebaum. By permission of the author