Jewish World Review August 28, 2008 / 27 Menachem-Av 5768
Did Hillary really help the Barack cause?
By Anne Applebaum
http://www.JewishWorldReview.com | She had only one task: persuade her supporters, a large percentage of whom are telling pollsters they now prefer John McCain, to vote for Barack Obama. She had only one chance: 20 minutes at the Democratic National Convention. Did she manage it?
Well she certainly said everything she was supposed to say. Her very first words after "I'm honoured to be here tonight," were a self description: "A proud mother. A proud Democrat. A proud American. And a proud supporter of Barack Obama."
Well she certainly said everything she was supposed to say. Her very first words after "I'm honoured to be here tonight," were a self description: "A proud mother. A proud Democrat. A proud American. And a proud supporter of Barack Obama."
She called on Democrats - "Whether you voted for me, or voted for Barack" - to "unite as a single party with a single purpose". And then, in case anyone didn't get the point, she announced: "Barack Obama is my candidate. And he must be our President."
She even included an impressively (for her) self-effacing moment. After listing the various things she was fighting for - "clean energy economy... health care that is universal... restore America's standing in the world" - she then asked her audience, many of whom were once her supporters, whether "you were in this campaign just for me? Or... were you in it for that mom struggling with cancer while raising her kids?"
And thus did Hillary Clinton actually imply that her campaign was not about Hillary Clinton, but about America and Americans. This was important: had you been watching her campaign, particularly when it lasted a month too long and felt like an insanely egotistical crusade, you might not have realised that America and Americans were at the heart of it at all.
The trouble with Hillary's speech, is the same thing that has always been the trouble with Hillary's speeches. On paper, it sounded fine, if dutiful. But in delivery, she was stiff and strained.
Did she really mean what she said about Barack Obama? Or was she saying it because she knows she has to, for the sake of her party and her own future career? It was noted afterwards that she failed to describe him as at least well-prepared for the job. His "inexperience", after all, was the central platform of her own campaign.
All told, none of it felt natural, or heartfelt. Only in a week or two, when the opinion polls come out, will we know whether that speech did what it was supposed to do: whether it persuaded blue-collar Americans, the traditional heart of the Democratic party, to vote for Barack Obama, a man whose exotic autobiography is far removed from theirs.
Obama does get one more chance to fight for this key voter group: tonight, in Denver, he provides the symbolic finale to the convention by making his own speech.
And though his task is precisely the same as Hillary's - persuade the blue-collar Democrats, the independent voters, the liberal Republicans, and all of Hillary's voters to support him - the challenge he faces is precisely the opposite.
Unlike Hillary, he is a superb speaker, one who can move crowds unlike any other American politician in a very long time. Unlike Hillary, the words that he uses will seem even more impressive when he utters them.
Obama's problem isn't stiffness, his problem is that his voters haven't known him for long enough, aren't convinced that he is experienced enough, and, yes, are perplexed by that exotic autobiography.
Despite the fuss last spring about the pastor of Obama's church, something like one in 10 Americans is still unaware that Obama is actually a Christian. Equally large percentages surely remain wary of his skin colour, his mixed parentage, or his odd-sounding name.
His job, on the convention's final night, is to convince them that he is a normal, familiar, average American, and yet experienced enough and prepared enough to be president, too. Did Hillary help ease the way? I think she tried, but I'm not sure she succeeded.
Every weekday JewishWorldReview.com publishes what many in the media and Washington consider "must-reading". Sign up for the daily JWR update. It's free. Just click here.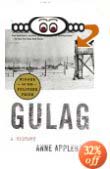 APPLEBAUM'S LATEST
Gulag: A History
Nearly 30 million prisoners passed through the Soviet Union's labor camps in their more than 60 years of operation. This remarkable volume, the first fully documented history of the gulag, describes how, largely under Stalin's watch, a regulated, centralized system of prison labor-unprecedented in scope-gradually arose out of the chaos of the Russian Revolution. Fueled by waves of capricious arrests, this prison labor came to underpin the Soviet economy. JWR's Applebaum, a former Warsaw correspondent for the Economist and a regular contributor to the Wall Street Journal and the Washington Post, draws on newly accessible Soviet archives as well as scores of camp memoirs and interviews with survivors to trace the gulag's origins and expansion Sales help fund JWR.
Comment on JWR contributor Anne Applebaum's column by clicking here.

Previously:
08/27/08: 'Show of Power,' Indeed
08/19/08: What Is Russia Afraid Of?
08/13/08: When China Starved
08/11/08: Two of the world's rising powers are strutting their stuff
08/05/08: How Alexander Solzhenitsyn's The Gulag Archipelago changed the world
07/29/08:'The Hour of Europe' Tolls Again … But are European politicians up to the task?
07/15/08: Why Does Obama Want To Campaign in Berlin?
07/01/08: Citizen Athletes: How did a guy who can't speak Polish end up scoring Poland's only goal of Euro 2008?
06/24/08: Why do we expect presidential candidates to be kind?
06/17/08: Pity the Poor Eurocrats
06/12/08: Is the World Ready for a Black American President?
05/28/08: The Busiest Generation: America seems to value its children's status and achievements over their happiness
05/20/08: Leave Hitler Out of It: The craze for injecting the Nazis into political debate must end
05/13/08: A Drastic Remedy: The case for intervention in Burma
05/07/08: A Warning Shot From Moscow?
04/23/08: Radio to stay tuned to
04/17/08: China learns the price of a few weeks of global attention
04/01/08: Head scarves are potent political symbols
03/26/08: The Olympics are the perfect place for a protest
03/19/08: Could Tibet bring down modern China?
03/12/08: Have political autobiographies made us more susceptible to fake memoirs?
03/05/08: Why does Russia bother to hold elections?
02/20/08: Kosovo is a textbook example of the law of unintended consequences
02/06/08: A Craven Canterbury Tale
02/06/08: French prez' whirlwind romance reminds voters of his political recklessness

© 2008, Anne Applebaum