Jewish World Review August 17, 2005 / 12 Menachem-Av, 5765
Iraq seeks constitution on eBay
By Andy Borowitz
Bold shift in strategy for National Assembly
http://www.JewishWorldReview.com | In what many in the international community are calling a bold shift in strategy, Iraq's National Assembly said today that it would give up its wrangling over a new constitution and would instead attempt to buy one on eBay.

The announcement of the National Assembly's decision to turn to eBay for its new constitution came at a press conference held by Iraq's Planning Minister, Barham Saleh.

"After much discussion, we have decided to seek a new national charter on eBay," Mr. Saleh said, adding, "I got a wonderful set of mixing bowls there just last week."

The decision to purchase a new constitution on the popular auction site, while seen as a drastic move by many in Baghdad, may be the only way to break the intractable logjam that has plagued the National Assembly for months.

But in the first day of surfing for constitutions on the eBay site, there were signs that old rivalries were rearing their ugly heads, as Sunnis, Shiites and Kurds fought for control of the computer's mouse.

After a coalition of Shiites and Kurds agreed to make a bid on a used constitution put up for sale by the tiny nation of Andorra, the Sunnis walked out, plunging the eBay process into chaos.

For his part, Mr. Saleh remained upbeat that Iraq would ultimately find its new constitution on eBay, telling reporters, "If for some reason this doesn't work, we'll try Amazon."

Elsewhere, in a positive development for the space program, NASA reported today that the new Mars orbiter has sent back dramatic pictures of the singer Courtney Love.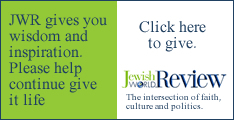 Every weekday JewishWorldReview.com publishes what many in in the media and Washington consider "must-reading". Sign up for the daily JWR update. It's free. Just click here.

Comment by clicking here.
JWR Contributor Andy Borowitz, the first-ever recipient of the National Press Club's Award for Humor, is a former president of the Harvard Lampoon,and a regular humor columnist for Newsweek.com, The New Yorker, The New York Times and TV Guide. Recognized by Esquire magazine as one of the most powerful producers in television, he was the creator and producer of the hit TV series The Fresh Prince of Bel-Air and producer of the Oscar-nominated film Pleasantville.

© 2005, Andy Borowitz