Jewish World Review August 11, 2005 / 6 Menachem-Av, 5765
Cutting costs, NASA says it will wait for Martians to come to us
By Andy Borowitz
Mars must share financial burden of space exploration, NASA chief says
http://www.JewishWorldReview.com | In what was widely seen as a belt-tightening measure, the National Aeronautics and Space Administration said today that it was scrapping all plans for a mission to Mars and would instead wait for Mars to plan a mission to Earth.

Speaking to reporters at Cape Canaveral, Florida today, NASA chief Michael Griffin said that in the current financial climate, "Rather than sending a rocket to Mars, it makes more sense just to sit and wait for the Martians to come to us."

Mr. Griffin said that the space agency came to the conclusion that it would prefer to wait for such a Martian visit after the just-concluded mission of the space shuttle Discovery, which he called "a royal pain from beginning to end."

"I say, if the Martians want to deal with foam debris, missing tiles and all of those other headaches, they are more than welcome to them," the administrator said.

He also offered harsh criticism for the Martians themselves, saying that they had "failed to pay their fair share of the cost of space exploration."

But in an official statement later in the day, the Emperor of Mars rebuffed Mr. Griffin's demands, saying Mars had "no intention of doing NASA's work for them."

In a parting shot, the Emperor concluded, "And don't expect Mars to fix Social Security, either, you tool."

Elsewhere, after paying Microsoft a seven million dollar settlement for sending millions of spam emails, spam entrepreneur Scott Richter said he was only trying to be his own boss by working from home.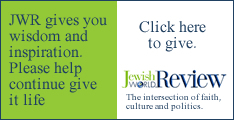 Every weekday JewishWorldReview.com publishes what many in in the media and Washington consider "must-reading". Sign up for the daily JWR update. It's free. Just click here.

Comment by clicking here.
JWR Contributor Andy Borowitz, the first-ever recipient of the National Press Club's Award for Humor, is a former president of the Harvard Lampoon,and a regular humor columnist for Newsweek.com, The New Yorker, The New York Times and TV Guide. Recognized by Esquire magazine as one of the most powerful producers in television, he was the creator and producer of the hit TV series The Fresh Prince of Bel-Air and producer of the Oscar-nominated film Pleasantville.

© 2005, Andy Borowitz