Jewish World Review August 9, 2005 / 4 Menachem-Av, 5765
Annoying minisub stuck again
By Andy Borowitz
'My bad,' says Russian captain
http://www.JewishWorldReview.com | One day after a Russian minisub was rescued from the floor of the Pacific Ocean, the captain of the vessel inexplicably attempted the identical voyage for a second time, stranding the minisub on the ocean floor yet again.

In a brief radio communication with officers of the Russian Navy, embarrassed minisub captain Lt. Vyacheslav Milashevsky had only these words to say: "My bad."

Given the torturous ordeal that the crew of the minisub had endured in the hours leading up to their heroic rescue, many observers were astonished that Lt. Milashevsky would decide to return to the same unforgiving waters off the coast of Kamchatka.

But according to Lt. Milashevsky, the return mission was an attempt to prove that he could navigate the icy depths without getting stuck again: "I really thought that the second time would be the charm."

But that was clearly not the case, as a robotic camera deployed by the Russian Navy revealed that the minisub's propeller had become ensnared in a discarded cassette tape, trapping the vessel once more at the bottom of the ocean.

Russian Defense Minister Sergei Ivanov, who supervised the first rescue operation, said he was "furious" that the minisub had become stuck at the bottom of the ocean for the second time in one week.

"I have half a mind not to bother rescuing those idiots this time," Mr. Ivanov told reporters. "If I never hear the words 'stranded minisub' again it'll be too soon."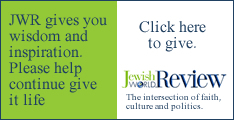 Every weekday JewishWorldReview.com publishes what many in in the media and Washington consider "must-reading". Sign up for the daily JWR update. It's free. Just click here.

Comment by clicking here.
JWR Contributor Andy Borowitz, the first-ever recipient of the National Press Club's Award for Humor, is a former president of the Harvard Lampoon,and a regular humor columnist for Newsweek.com, The New Yorker, The New York Times and TV Guide. Recognized by Esquire magazine as one of the most powerful producers in television, he was the creator and producer of the hit TV series The Fresh Prince of Bel-Air and producer of the Oscar-nominated film Pleasantville.

© 2005, Andy Borowitz