Jewish World Review August 23, 2005 / 18 Av, 5765
See Jane, see Jane keep her cool
By Lori Borgman


http://www.JewishWorldReview.com | One of the great challenges of motherhood is keeping your composure when your kid begins jerking around in public. This year's grand prize winner may be Jane Roberts, wife of Supreme Court nominee John Roberts.

Jane was standing off to the side with their two young children, Josie and Jack, as President Bush introduced her husband to the country on live television. A proud moment. A historic moment.

All of a sudden four-year-old Jack suffered a bad case of happy feet, broke free from his mother's grip and began a routine that nearly danced the shine right off his black-and-white saddle shoes. It was Fred Astaire, the early years.

He had to stand still, what, like five, six minutes?

Don't you know the kid probably slept all the way to the press conference in the car?

Don't you know that for the previous three months, his mother probably begged him to do his little dance routine for the grandparents and he consistently refused? But the minute she didn't want him dancing, he morphed into crazy legs.

What's a mother to do? Smile. Look straight ahead with a calm that says, 'You mean this didn't happen with Clarence Thomas and Ruth Bader Ginsburg? '

Every mother has been there with the kid who picks an opportune moment for self-expression — but most of us haven't been there when the moment was broadcast live from coast to coast.

I know a mother who went to the grand opening of a grocery store with her three kids in tow, only to have her middle child add to the festivities of free balloons, food samples and the search light in the parking lot by tripping the fire alarm.

She had two options. Duck out or march him to the manager's office and have him apologize. She opted for plan B, kept her cool in the store, and then lit a fire of a different sorts under the boy when he got home.

Then there was the friend who was changing her baby by an elevator and took her eyes off her two older boys for all of two seconds. They seized this moment to get in the elevator, stop it between floors and try to force open the door. When the manager arrived, she was the picture of poise. The woman belongs in a hall of fame.

The city I grew up in had a mall with large animals that children could climb on in front of all the stores. At the entrance of the mall was Noah's ark surrounded by a pool of water and enclosed with an ornamental wrought-iron fence.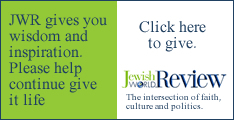 One of the neighbor kids found he was able to wiggle his head between the bars for a closer look, but couldn't get his head back out.

The firemen arrived at the same time the television crew did. The boy's mother froze with a half smile and the one-eyed squint that in all countries and all languages means, 'just wait until we get home. '

As they've replayed the video clip of Jane Roberts and Happy Feet again and again, she maintains a near perfect calm. The only discernable hint of disapproval is that Jane looks directly at the boy for an extended period of time without blinking, which all children know is mom-code for BT — big trouble.

That kind of cool tells you something important about a woman — it tells you she'd make an excellent card player.
Every weekday JewishWorldReview.com publishes what many in in the media and Washington consider "must-reading". Sign up for the daily JWR update. It's free. Just click here.
JWR contributor Lori Borgman is the author of , most recently, "Pass the Faith, Please" (Click HERE to purchase. Sales help fund JWR.) and I Was a Better Mother Before I Had Kids To comment, please click here. To visit her website click here.
© 2005, Lori Borgman