Jewish World Review August 5, 2005 / 29 Tammuz, 5765
Here kitty, kitty
By Lori Borgman


http://www.JewishWorldReview.com | I just got off the phone with my Cat Captain. A cat captain is part animal rights activist, part kitty welfare worker and part personal counselor.

It all started when the husband discovered a stray cat had given birth to four kittens between our woodpile and the back of the house.

The husband isn't normally a sleuth, but the bird feathers scattered around the yard and the headless robin were rather obvious clues that something was up.

'Just what we need, ' he said, as we stood there gazing at the kittens, 'our own cat park. '

'Yes, ' I said. 'Two years from now, we'll be on the nightly news as the eccentric couple overrun by felines. '

'But we are not cat people, ' he said.

'She doesn't know that, ' I said. 'Why don't I get the momma some milk? '

'You're going to feed her? ' the husband asked.

'I'm not feeding her, I'm just hydrating her because she's nursing.'

'All right, ' he said. 'But when they're weaned, they're outta here. '

'Like a Jet Ski, ' I said.

Acutely aware that 5 times 5 equals 25 (cats, that is), and 25 times 25 equals 625 and that a television camera adds 10 pounds, I began making calls. The first two agencies that would accept the cats would also let them go 'nighty-night, ' if you get my drift.

My last phone call led to a feral rescue group, which led to me being assigned to a Cat Captain. When I expressed my disdain, er concern, about cats multiplying like rabbits, my Cat Captain made it clear it would be illegal to kill the cats.

I pointed out that it was open season on strays in Minnesota and Wyoming and she pointed out that I lived in neither. 'This is true, ' I said. 'And I wasn't thinking of doing any such thing, and don't take this the wrong way, but do ferals have any, uh, you know, natural predators? '

'Traffic, ' she said. (I tried visualizing a mini-van careening through the backyard.) 'And freezing cold. ' (Highly unlikely in the middle of summer.)

The Cat Captain suggested TNR: trap, neuter, return. Once the kittens were weaned she would help trap them in 'catacombs, ' have each one neutered, groomed, then returned to us with a clipped ear so they would be permanently identified as 'fixed. '

There would be a $20 fee per cat. In the meantime, I should decide whether I wanted to 'manage a feral colony' or 'secure foster care.'

I agreed to TNR, but drew the line at becoming Cat Woman, overseeing a colony of strays. So now the Cat Captain calls weekly to see if the cats are weaned, how my foster care arrangements are coming, and to make sure there are no tire tracks the backyard.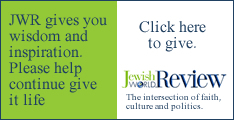 I have been preparing the cats, going outside each morning and telling them in a soft, soothing voice, that they are going to go for a little ride and have a little snip-snip elective surgery soon.

I also tell them about the Kitty Cat Relocation Plan I have for them in which they will be taken to barns and adopt new identities as mousers.

The cats listen intently, hiss and arch their backs when I mention the snip-snip part, and then resume attacking invisible things in the air and generally acting like they are hyped up on methamphetamines.

I think they understand the plan and accept it. The Cat Captain completely agrees.

The husband thinks the robin may not be the only one who lost his head.
Every weekday JewishWorldReview.com publishes what many in in the media and Washington consider "must-reading". Sign up for the daily JWR update. It's free. Just click here.
JWR contributor Lori Borgman is the author of , most recently, "Pass the Faith, Please" (Click HERE to purchase. Sales help fund JWR.) and I Was a Better Mother Before I Had Kids To comment, please click here. To visit her website click here.
© 2005, Lori Borgman