Jewish World Review August 31, 2004 / 14 Elul, 5764
And on Tuesday the Rebbetzin spoke at the GOP convention
By Jonathan Mark
When a renowned Orthodox female Torah personality takes center-stage tonight at Madison Square Garden, it will be history in the making for American politics. But for her, it will be déjà vu

http://www.jewishworldreview.com | Rebbetzin Esther Jungreis, the noted Torah teacher whose career was catapulted when she packed Madison Square Garden for a Torah revival meeting back in 1973, is going back to the Garden, tapped by the Republican Party to give the closing benediction tonight.

"Everything is bashert," says the Rebbetzin. "Can you imagine? Isn't this terrific?"

She was cognizant of who and how much she represented: a child survivor of Bergen-Belsen, a Rebbetzin, an immigrant, an Orthodox woman, a combination of which has never before been given such an honor.

"Once her name was raised, and it came up from several quarters, everyone thought she's be an inspired choice," said Michael Lebovitz, the Bush campaign's point man on Jewish outreach. "She has an incredibly broad audience, observant, non-observant, Orthodox to secular."

The rebbetzin's popularity — her singles lectures at Hineni, her Upper West Side organization, have drawn packed houses and much media attention — has spread far beyond her initial New York audience. A Hineni branch in Israel feeds more than 400 daily at a soup kitchen in Jerusalem.

And her books, such as 1998's "The Committed Life" and 2002's "The Committed Marriage" (both Harper Collins), have made her the darling of Christian columnists and Conservative talk-show hosts, such as Dr. Laura and Rush Limbaugh.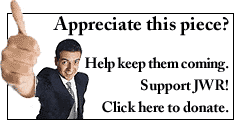 Rebbetzin Junreis teaches Torah locally, and writes a spiritual advice column for the Jewish Press. In 1972, speaking at a retreat for Young Israel collegiates, she tried to arouse the students from their passivity. "I said, 'Do something! Take over Madison Square Garden for a day of Torah,' " not that she really meant it.

A year later, with the help of Rabbi Shlomo Carlebach, "there I was, teaching Torah in a packed Madison Square Garden," Rebbetzin Jungreis says.

The Rebbetzin told The Jewish Week that she admired President Bush for being "a man of faith, courage and integrity." She hopes G-d will inspire her with the right words for the convention Tuesday night, but she's considering a phrase from Psalms 29:11 and the siddur (Jewish prayer book): "G-d will give strength to his people. G-d will bless his people with peace."
Every weekday JewishWorldReview.com publishes what many in Washington and in the media consider "must reading." Sign up for the daily JWR update. It's free. Just click here.
Jonathan Mark is Associate Editor of The New York Jewish Week. Comment by clicking here.
© 2004, NY Jewish Week