[ J E W I S H L I V I N G ]
The Jewish Ethicist
By Rabbi Dr. Asher Meir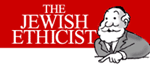 What's an ethical way to say "You're fired"?


Who is being unreasonable?
By Jonah Goldberg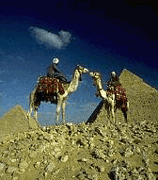 The Egyptians owe me. Big Time. According to the Bible, my great-great-great -great-great-great -- oh you get the point -- grandfather helped build the great cities of Egypt whose ruins drive that country's tourism business today.
Indeed, tourism is Egypt's second biggest source of revenue. So I think I deserve my cut. And, hey, if they don't have the cash on hand (they don't), I will gladly accept movement of the pyramids to Israel or, say, Shaker Heights, Ohio; any place where Jews can get what they're owed will be fine. After all, no one wants to be unreasonable.
Or do they?
[ D A I L Y I N S P I R A T I O N ]


WISDOM EACH DAY: Start your day off right with words that will speak to your heart and soul. (NEVER TRIED THIS FEATURE? YOU DO NOT KNOW WHAT YOU ARE MISSING!)




[ L I F E S T Y L E S ]

Dr. Ed Blonz: How can one control Celiac disease?

Consumer Reports on JWR: The latest on vacuum cleaners



[ V I D E O ]

Late Night Video Recap: Busy last night? Went to bed early? We have a short daily digest of TV's late-night jesters. (UPDATED EVERY WEEKDAY!)

MSNBC Hourly Update


[ I N S I G H T ]



John Ziegler: The Rules of the 'N-Word'


Linda Bowles: Does the government have the authority to forfeit human lives to save fish?

Jeff Jacoby: Is gay "marriage" a threat?

Fred Barnes: The new conventional political wisdom

Paul Greenberg: Drawing the line -- again and again and again

Thomas J. Bray: Bush remains a realist, not isolationist

Frank Gaffney: A New bipartisanship in security policy?

Amity Shlaes: Mexican truck drivers will hurt the Teamsters

Mark Lane: Junk science might explain summer junk

Mort Kondracke: Bush and Hastert keep the House in order -- so far

Bob Greene: The judge rules she can go free without a trial (OUTRAGEOUS!)

John Leo: My morals, myself: Personal rules mean trying to have it both ways

Chris Matthews: End presidential term limits!

MUGGER: Bush heats up

David Horowitz: Social Security Reactionaries and Reformers

Cal Thomas: Rumors of war





[ W O R T H 1 0 0 0 W O R D S ]

Mallard Fillmore: Shattering the feminists' myths

Chris Hiers: Jimmah disses Dubya (ANIMATED!)

Gary Varvel: On Boomer Blv.

Michael Ramirez: Run, Reno! Run!

(Att. working columnists and editorial cartoonists: Think you have what it takes to be featured on JWR? Drop us a note. And readers: We're always open for suggestions!)








require ("t-ssi/rtorah.html"); ?>