[ J E W I S H L I V I N G ]
BIBLICAL BLUES: The Ruby Harris Electric Violin Blues Review's Almost Home
By Paul Wieder


A Jewish blues player? You bet! Ruby Harris has performed at Carnegie Hall and Lincoln Center. He's jammed with Junior Wells; he showed up on MTV with Bob Dylan and Tom Petty. His audiences have included mayors Daley and Guliani and heads-of-state Clinton and Rabin. One particularly poignant concert was the funeral of his longtime inspiration, Wille Dixon. Complete with audio links!


Deborah Sontag's valentine
to the Men of Oslo
By Daniel Pipes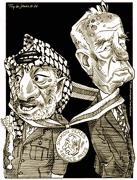 Why is there no peace in the Mideast? According to the New York Times' Israel bureau chief, Deborah Sontag -- in a 6,000-word article -- it's a nuisance called democracy. A detailed dissecting of how far-left propaganda passes for journalism.




[ D A I L Y I N S P I R A T I O N ]


WISDOM EACH DAY: Start your day off right with words that will speak to your heart and soul. (NEVER TRIED THIS FEATURE? YOU DO NOT KNOW WHAT YOU ARE MISSING!)




[ L I F E S T Y L E S ]

Dr. Ed Blonz: I Can aluminum make you sick? Can it cause Alzheimer's?

Consumer Reports on JWR: Relieving the weight of backpacks



[ V I D E O ]

Late Night Video Recap: Busy last night? Went to bed early? We have a short daily digest of TV's late-night jesters. (UPDATED EVERY WEEKDAY!)

MSNBC Hourly Update


[ I N S I G H T ]



Jimmy Breslin: Visiting the rest of Bubba's new 'hood

Amitai Etzioni: Shouting 'Big Brother' in a crowded society

Diana West: How-To Hackdom: The dubious art of writing books about writing books

Michelle Malkin: MTV: No thanks for the memories

Debra J. Saunders: Welcome to France, killers

Leonard Pitts, Jr.: Should a man be put in jail for what he's thinking?

David Limbaugh: Social Security shell game

Don Feder: Gay marriage undermines institution

MUGGER: Pickin' up the pieces

Larry Kudlow: The Terminator's shooting blanks

Jonah Goldberg: A point about pointless laws

Jackie Mason & Raoul Felder: Getting to the heart of the matter: Leave Cheney alone

Wesley Pruden: There's something up this diplomatic sleeve

Walter Williams: Riot ideology and de-policing

Cal Thomas: Clinton left Military in a shambles

Thomas Sowell: Minimum journalism





[ W O R T H 1 0 0 0 W O R D S ]

Mallard Fillmore: Hillary and Al ... Sharpton

World Editorial Cartoon Showcase: FROM ALBANIA: Macedonian Clock

Michael Ramirez: The PERFECT Hollyweird metaphor

(Att. working columnists and editorial cartoonists: Think you have what it takes to be featured on JWR? Drop us a note. And readers: We're always open for suggestions!)








require ("t-ssi/rtorah.html"); ?>