Jewish World Review July 29, 2009 / 8 Menachem-Av 5769
No Burqa For Clinton
By Anne Applebaum


http://www.JewishWorldReview.com | "It's time for Barack Obama to let Hillary Clinton take off her burqa." It's a line that brilliantly managed to belittle our female secretary of state under the guise of supporting her, to offend her and "defend" her at the same time: No wonder the insult that Tina Brown lobbed at the White House two weeks ago continues to echo around Washington. Since Brown wrote her article (snidely entitled "Obama's Other Wife"), even Clinton has been forced to respond.

"I don't pay a lot of attention to what is said," she told an interviewer before setting off on a trip to Asia, during which she seemed deliberately to court media attention, and to care a lot about what was said. "I broke my elbow, not my larynx." And then, defensively: "I have been deeply involved in the shaping and implementation of our foreign policy."

Let Hillary take off her burqa. Yes, it was memorable. And yes, it reflected just how hard it is to understand how, exactly, foreign policy gets made in this country. If only President Obama really were sitting in the White House, scheming with his inner circle, dreaming up diabolical plots, sending out detailed instructions to Clinton, Vice President Biden and the director of the CIA -- issuing metaphorical "burqas" -- then at least we'd all find things easier to analyze. But that's how foreign policy gets made in North Korea, not the United States.

The fact is that the post of secretary of state is a fabulously ill-defined job. If she so desires, Clinton can engage the world in multiple ways. She can visit, she can write and she can speak, knowing full well that everyone will hang on her every word. She can hold town-hall meetings in the countries she visits, and indeed she has done so. She has done television interviews, too, both in the United States and abroad. One presumes that she consults with the president on major speeches and key issues, but other than that, she sets her program.

Not only has she not been kept forcibly silent, in other words, she also possesses an extraordinary number of ways to set the agenda and has done so on several occasions. She created a small fuss in February by declaring that human rights debates with China aren't very important because "we already know what they are going to say." Since then she's gone out of her way to talk about human rights and its central importance to Americans. Last week in Asia, she caused a fuss by discussing a "defense umbrella" that the United States theoretically could create to protect the Middle East in case Iran gets nuclear weapons. Since then she, and others, have backpedaled, too: Leaving aside any implications for Iranian nuclear policy, her comments surely came as a surprise to other members of the administration who have been telling other people that missile defense programs are all on hold.

Clinton is not alone in possessing the power to make up policy on the spot, of course. Biden also has this power, and he too has used it to the fullest. Following a recent trip to Ukraine and Georgia, for example, he described the Russian economy as "withering" and its population as "shrinking." Although neither statement was untrue, exactly, Clinton herself felt obliged to publicly reassure the Russians that the United States still views their country as a "great power." It makes one wonder what the Russians really make of it all.

But my point isn't that the United States should have a crystal-clear, perfectly unified foreign policy of the sort that can be made only by dictatorships. My point is that it is largely up to Clinton, not Obama, to determine what kind of secretary of state she will be. And although she can choose her issues and pick her moments, so far she has mostly made headlines by accident. Her recent speech at the Council on Foreign Relations, billed as an important policy statement, was bland and predictable. What we know of her official views on Russia can be encapsulated by Biden's vapid expression "let's press the reset button." She has engaged in some amusing back-and-forth with the North Koreans -- I give her high marks for getting them angry enough to hurl insults ("she looks like a primary schoolgirl and sometimes a pensioner going shopping") -- but we don't know yet how she thinks that problem will be solved.

I'm not sure that Clinton, or any secretary of state, needs to have an overarching "theory" in order to explain her views. But it is up to her to tell us what she thinks is important, and why. If she hasn't done so yet, that isn't the president's fault.
Every weekday JewishWorldReview.com publishes what many in the media and Washington consider "must-reading". Sign up for the daily JWR update. It's free. Just click here.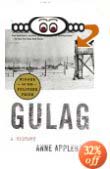 APPLEBAUM'S LATEST
Gulag: A History
Nearly 30 million prisoners passed through the Soviet Union's labor camps in their more than 60 years of operation. This remarkable volume, the first fully documented history of the gulag, describes how, largely under Stalin's watch, a regulated, centralized system of prison labor-unprecedented in scope-gradually arose out of the chaos of the Russian Revolution. Fueled by waves of capricious arrests, this prison labor came to underpin the Soviet economy. JWR's Applebaum, a former Warsaw correspondent for the Economist and a regular contributor to the Wall Street Journal and the Washington Post, draws on newly accessible Soviet archives as well as scores of camp memoirs and interviews with survivors to trace the gulag's origins and expansion Sales help fund JWR.
Comment on JWR contributor Anne Applebaum's column by clicking here.

Previously:
07/14/09: The Summit of Green Futility
07/09/09: Obama Puts Medvedev Ahead of Putin
06/30/09: In Morocco, an alternative to Iran
06/23/09: An overlooked force in Iran
06/16/09: Some good in a bad election
06/09/09: Why Is the Right Doing So Well in Europe?
06/02/09: Is China Pulling Strings in North Korea?
05/26/09: What a Member of Parliament Deserves
04/22/09: The Twitter Revolution That Wasn't
04/14/09: Do we really need interactive exhibits to bring Jefferson to life?
04/07/09: No Nukes? No Thanks: Obama's odd obsession with universal nuclear disarmament
03/31/09: What's Loud, Unnecessary, and Costs $75 Million?
03/23/09: Ctrl-Alt-Diplomacy
03/03/09: European Disunion
02/24/09: Who cares what Hillary Clinton says to China's leaders about human rights?
02/17/09: Witless protection
02/10/09: Our Ticket Out of Afghanistan
01/27/09:Why some foreigners can't believe Obama won the presidency fair and square
01/20/09: A Flight Test for All of Us
01/14/09: Europe's New Cold War
01/07/09: Pointless Peace Proposals
12/30/08: The magnificent rhetorical legacy of the Founding Fathers
12/23/08: Do riots in Athens portend demonstrations in Paris and Cincinnati?
12/16/08: Breach of Trust: Bernard Madoff's massive fraud will cripple American capitalism
12/09/08: In praise of charismatic politicians
12/03/08: Moscow's Empire of Dust
11/20/08: Getting Past Mythmaking In Georgia
11/12/08: In Praise of Political Rock Stars
10/03/08: Election Day myths you must resist
09/30/08: Not just a metaphor: Lehman Brothers was economic's 9/11
09/04/08: Class of '64
08/28/08: Did Hillary really help the Barack cause?
08/27/08: 'Show of Power,' Indeed
08/19/08: What Is Russia Afraid Of?
08/13/08: When China Starved
08/11/08: Two of the world's rising powers are strutting their stuff
08/05/08: How Alexander Solzhenitsyn's The Gulag Archipelago changed the world
07/29/08:'The Hour of Europe' Tolls Again … But are European politicians up to the task?
07/15/08: Why Does Obama Want To Campaign in Berlin?
07/01/08: Citizen Athletes: How did a guy who can't speak Polish end up scoring Poland's only goal of Euro 2008?
06/24/08: Why do we expect presidential candidates to be kind?
06/17/08: Pity the Poor Eurocrats
06/12/08: Is the World Ready for a Black American President?
05/28/08: The Busiest Generation: America seems to value its children's status and achievements over their happiness
05/20/08: Leave Hitler Out of It: The craze for injecting the Nazis into political debate must end
05/13/08: A Drastic Remedy: The case for intervention in Burma
05/07/08: A Warning Shot From Moscow?
04/23/08: Radio to stay tuned to
04/17/08: China learns the price of a few weeks of global attention
04/01/08: Head scarves are potent political symbols
03/26/08: The Olympics are the perfect place for a protest
03/19/08: Could Tibet bring down modern China?
03/12/08: Have political autobiographies made us more susceptible to fake memoirs?
03/05/08: Why does Russia bother to hold elections?
02/20/08: Kosovo is a textbook example of the law of unintended consequences
02/06/08: A Craven Canterbury Tale
02/06/08: French prez' whirlwind romance reminds voters of his political recklessness

© 2009, Anne Applebaum. By permission of the author