<!- end inthis -->
Jewish World Review July 1, 2008 / 28 Sivan 5768
Citizen Athletes: How did a guy who can't speak Polish end up scoring Poland's only goal of Euro 2008?
By Anne Applebaum


http://www.JewishWorldReview.com | Myself, I was rooting for Spain in the finals. The Spanish economy is in the doldrums at the moment, and I thought it might cheer up the Spaniards if they won — which it did, judging by the all-night street party that followed the victory. My son, however, was rooting for Germany. This, paradoxically, is because he is half-Polish, and two of the German players are actually Poles, born in Poland, who speak Polish to each other on the field. One of them — Lukas Podolski — scored both of the goals during the Poland-Germany game three weeks ago. Germany won that match, 2-0.

But then, that was fairly typical of this year's European championships, in the sport Americans call soccer and the rest of the world calls football (or futbol, or futebol, or pilka nozna, and so on). True, this year's tournament proceeded more or less as usual, and all the nationalistic rituals were fully observed. Everybody dressed in their national colors, painted their faces, sang their national anthems, and chanted their chants. The Dutch dyed their hair orange; German girls wore red-black-and-yellow bikini tops; and the Poles — who didn't used to go in for this sort of thing, as far as I remember — painted their faces half-red and half-white. Everybody does it now, and generally speaking it's a benign phenomenon, as I've written before. Most European countries don't have a Fourth of July, and most Europeans don't have flag poles in front of their houses, so soccer tournaments are really the only chance they have to scream their national anthems and chant their national chants without being thought fascist.

Nevertheless, this year's festivities made me wonder whether these sweetly atavistic rituals are not merely over the top but also increasingly somewhat off-target. I first noticed the problem when both Polish and German journalists swarmed over Podolski, following the German victory over Poland, demanding to know "how he felt" about scoring against his own country. He didn't have any terribly edifying answers, being a 23-year-old soccer player, though his garbled comments about his mixed feelings did produce a national lament in Poland, along the lines of "Why do all the really talented Poles end up leaving the country?" Yet it turns out that he was not at all unusual. In Euro 2008, something like a third of the goals were scored by people who had not been born citizens of the country for which they were playing, either thanks to some horse-trading with passports or — and this is perhaps the more interesting point — thanks to the ever-higher levels of immigration both into Europe from the outside and within Europe itself.

Thus, Poland's single tournament goal was scored by Roger Guerreiro, born in Brazil. One of the Austrian stars was Ivica Vastic, a Croat. The Turkish team had five foreign-born players, Portugal had five, and Croatia and France had seven each. Even the coaches, nowadays, are foreigners. Both Poland and Russia have Dutch coaches — though the former is now in the doghouse while the latter became a national hero when Russia's team, against improbable odds, made it to the semifinals. Apparently there are now calls to make him an honorary Russian citizen.

Perhaps because of the increasingly multinational nature of these supposedly national teams, there was also a certain circumspectness on the part of fans this year, and even from their governments, which I don't remember from the past. The Germany-Turkey semifinal was, for example, a veritable model of anxious, ostentatiously multicultural goodwill. I happened to be in Berlin when it was played, a city that is home to a couple of hundred thousand Turks (there are 2.6 million in all of Germany) not all of whom either feel like or are treated like natives most of the time. Nevertheless, on the day of the game, the city's residents celebrated with something like forced good humor. Berlin cars flew both the Turkish and German flags, Berliners ostentatiously wore T-shirts featuring a German eagle and a Turkish crescent moon, and the Berliner Morgenpost put a studiously cheerful article about good sportsmanship on its front page — in both German and Turkish. After the Germans won, everybody, up to and including German Chancellor Angela Merkel, immediately agreed that the German victory was very nice — but of course it was absolutely crystal clear that the Turks had played better and had deserved to win. Phew!

But then, that is part of the charm of soccer — which is, let's face it, a fundamentally unjust sport: Since it is very often the case that the wrong team wins, or that the team that has dominated the game doesn't manage to score, or that the referee makes an arbitrary call and gives away an unfair penalty kick, you can always be gracious about your opponents if you want to be. And perhaps that helps explain soccer's enduring appeal in Europe, a continent where the ethnic composition of the teams is nowadays as fluid as the ethnic composition of the nations they claim to represent.
Every weekday JewishWorldReview.com publishes what many in the media and Washington consider "must-reading". Sign up for the daily JWR update. It's free. Just click here.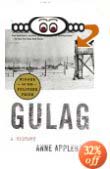 APPLEBAUM'S LATEST
Gulag: A History
Nearly 30 million prisoners passed through the Soviet Union's labor camps in their more than 60 years of operation. This remarkable volume, the first fully documented history of the gulag, describes how, largely under Stalin's watch, a regulated, centralized system of prison labor-unprecedented in scope-gradually arose out of the chaos of the Russian Revolution. Fueled by waves of capricious arrests, this prison labor came to underpin the Soviet economy. JWR's Applebaum, a former Warsaw correspondent for the Economist and a regular contributor to the Wall Street Journal and the Washington Post, draws on newly accessible Soviet archives as well as scores of camp memoirs and interviews with survivors to trace the gulag's origins and expansion Sales help fund JWR.
Comment on JWR contributor Anne Applebaum's column by clicking here.

Previously:
06/24/08: Why do we expect presidential candidates to be kind?
06/17/08: Pity the Poor Eurocrats
06/12/08: Is the World Ready for a Black American President?
05/28/08: The Busiest Generation: America seems to value its children's status and achievements over their happiness
05/20/08: Leave Hitler Out of It: The craze for injecting the Nazis into political debate must end
05/13/08: A Drastic Remedy: The case for intervention in Burma
05/07/08: A Warning Shot From Moscow?
04/23/08: Radio to stay tuned to
04/17/08: China learns the price of a few weeks of global attention
04/01/08: Head scarves are potent political symbols
03/26/08: The Olympics are the perfect place for a protest
03/19/08: Could Tibet bring down modern China?
03/12/08: Have political autobiographies made us more susceptible to fake memoirs?
03/05/08: Why does Russia bother to hold elections?
02/20/08: Kosovo is a textbook example of the law of unintended consequences
02/06/08: A Craven Canterbury Tale
02/06/08: French prez' whirlwind romance reminds voters of his political recklessness

© 2008, Anne Applebaum
Columnists
Toons
Lifestyles