Jewish World Review July 26, 2006 /1 Menachem-Av, 5766
Angelina Jolie, Bono sign Mideast peace accord
By Andy Borowitz
Israel, Hezbollah not consulted
http://www.JewishWorldReview.com | Hopes for a lasting peace in the Middle East were raised today when a comprehensive Mideast peace accord was signed by Hollywood actress Angelina Jolie and Bono, the lead singer of the rock band U2.

Just hours after Secretary of State Condoleezza Rice made a surprise visit to Beirut to confer with Lebanese officials, Dr. Rice found that her efforts were largely upstaged by the high-wattage amateur diplomacy of the two global superstars.

"When I saw the conflict in the Middle East spiraling out of control, I recognized that there were only two parties who could sit down at a negotiating table and bring peace to the region," Ms. Jolie told reporters today at a press conference in Jerusalem. "And those two parties were me and Bono."

After reaching out to Bono to make her historic offer of a lasting peace, Ms. Jolie dropped off her infant child Shiloh Jolie-Pitt with a babysitter in Namibia and jetted for the Middle East.

But even as Ms. Jolie and Bono signed their landmark Mideast peace accord, representatives from both Israel and Hezbollah complained that neither of them had been consulted "at all" about the terms of the agreement.

"That's true, we did not consult them," Ms. Jolie told reporters. "We thought long and hard about it, and Bono and I came to the conclusion that Israel and Hezbollah would only screw things up."

Elsewhere, hospitalized due to his hunger strike, former Iraqi president Saddam Hussein demanded that doctors remove his feeding tube because it was interfering with his ability to make incoherent anti-American outbursts.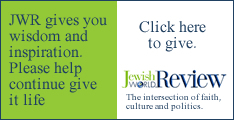 Every weekday JewishWorldReview.com publishes what many in in the media and Washington consider "must-reading". Sign up for the daily JWR update. It's free. Just click here.

Comment by clicking here.
JWR Contributor Andy Borowitz, the first-ever recipient of the National Press Club's Award for Humor, is a former president of the Harvard Lampoon,and a regular humor columnist for Newsweek.com, The New Yorker, The New York Times and TV Guide. Recognized by Esquire magazine as one of the most powerful producers in television, he was the creator and producer of the hit TV series The Fresh Prince of Bel-Air and producer of the Oscar-nominated film Pleasantville.

© 2006, Andy Borowitz