Jewish World Review July 19, 2006 /23 Tamuz, 5766
Surprise summer TV hit: 'North Korea's Got Talent'
By Andy Borowitz
Kim Jong-Il's first-ever reality show heats up the Nielsens
http://www.JewishWorldReview.com | Just weeks after taunting his neighbors and the West with a provocative missile test, North Korean president Kim Jong-Il has launched his first-ever reality show, a surprise summer hit called "North Korea's Got Talent."

Hosted by the diminutive dictator himself, the televised talent showcase has been heating up the Nielsens ever since it debuted, with approximately 100% of all North Korean TV viewers watching it.

"It helps that the marketing campaign has been so strong," says Davis Logsdon, who studies North Korean television trends at the University of Minnesota. "Also that Kim Jong-Il has forced all North Koreans to watch it under penalty of death."

The North Korean talent show ignores such talents as singing, dancing and juggling in favor of talents that the North Korean dictator favors, such as reprocessing spent nuclear fuel rods.

Other talents showcased include goose-stepping, saber-rattling, and kidnapping innocent Japanese citizens.

North Korean viewers are encouraged to vote for their favorite contestants, a system that has had more than its share of glitches, according to Mr. Logsdon: "The biggest problem has been trying to teach the audience what 'voting' means."

While the West was apparently blindsided by Kim Jong-Il's entry into the reality TV field, Mr. Logsdon says the move should not have been a surprise.

"It's natural that Kim Jong-Il would do a show called 'North Korea's Got Talent,'" he said. "What would have been truly surprising is a show called 'North Korea's Got Food.'"

Elsewhere, in a budget-cutting move, The New York Times announced that it would trim its page size, changing its motto to "All the News That Fits."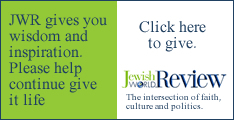 Every weekday JewishWorldReview.com publishes what many in in the media and Washington consider "must-reading". Sign up for the daily JWR update. It's free. Just click here.

Comment by clicking here.
JWR Contributor Andy Borowitz, the first-ever recipient of the National Press Club's Award for Humor, is a former president of the Harvard Lampoon,and a regular humor columnist for Newsweek.com, The New Yorker, The New York Times and TV Guide. Recognized by Esquire magazine as one of the most powerful producers in television, he was the creator and producer of the hit TV series The Fresh Prince of Bel-Air and producer of the Oscar-nominated film Pleasantville.

© 2006, Andy Borowitz