Jewish World Review July 18, 2006 /22 Tamuz, 5766
Astronauts successfully complete sudoku puzzles
By Andy Borowitz
Congress questions limited ambition of Discovery's mission
http://www.JewishWorldReview.com | Moments after the space shuttle Discovery landed yesterday, shuttle astronauts pronounced their mission a success, including the completion of several books of Sudoku puzzles while on board.

In a press briefing after their return to Earth, the Discovery crew said that a key part of their mission was to determine the effect of zero gravity on humans who were attempting to do Sudoku puzzles.

"On Earth, it usually takes me around fifteen to thirty minutes to complete a Sudoku puzzle," said astronaut Steve Frick. "The good news is I was able to do it in about the same amount of time, except for when the pencil floated out of my hand."

In addition to the Sudoku experiment, the shuttle astronauts said that they logged "many hours" playing Xbox while on board the Discovery.

"Our manual dexterity while playing Xbox was not affected in the least by the zero gravity conditions," Mr. Frick said. "And we should know, because when we were not doing Sudoku, we were playing Xbox."

Shortly after the shuttle astronauts' press briefing, however, Sen. Joseph Biden (D-Del) blasted the shuttle mission, questioning the modest ambitions of the crew's experiments.

"I don't think we needed to spend zillions of dollars in taxpayer money to see how effectively these guys could kill time in space," he said.

But astronaut Frick brushed aside the senator's criticism, saying that the astronauts also did vital repair work on the shuttle's satellite dish: "We wanted to have that thing fixed in time to see the Yankees game."

Elsewhere, violence in the U.S. rose 15% this year but most of that increase was attributed to supermodel Naomi Campbell.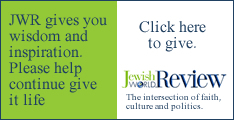 Every weekday JewishWorldReview.com publishes what many in in the media and Washington consider "must-reading". Sign up for the daily JWR update. It's free. Just click here.

Comment by clicking here.
JWR Contributor Andy Borowitz, the first-ever recipient of the National Press Club's Award for Humor, is a former president of the Harvard Lampoon,and a regular humor columnist for Newsweek.com, The New Yorker, The New York Times and TV Guide. Recognized by Esquire magazine as one of the most powerful producers in television, he was the creator and producer of the hit TV series The Fresh Prince of Bel-Air and producer of the Oscar-nominated film Pleasantville.

© 2006, Andy Borowitz