Jewish World Review July 10, 2006 /14 Tamuz, 5766
Chirac head-butts Clinton in World Cup finale
By Andy Borowitz
French president ejected from Olympic stadium
http://www.JewishWorldReview.com | The finale of the 2006 FIFA World Cup was marred today when French President Jacques Chirac head-butted former U.S. President Bill Clinton while the two dignitaries watched the climactic game in Berlin's Olympic Stadium.

As France and Italy faced off in a double-overtime nail-biter, the two world leaders were seen chatting amiably in the V.I.P. section of the stadium before, in the words of one spectator, "something went terribly wrong."

While a global television audience of approximately 30 billion watched in horror, the French president head-butted Mr. Clinton in the chest, sending him reeling backwards over his chair and landing on U2 lead singer Bono, who was seated directly behind.

Both Mr. Clinton and Bono sustained minor injuries in the incident, but the U2 front man's orange sunglasses were said to be damaged beyond repair.

Moments after the violent confrontation, FIFA referee Horacio Elizondo penalized President Chirac for the head-butting infraction, ejecting him from the stadium for the remainder of the match.

Speaking to reporters outside Olympic Stadium, President Chirac was unrepentant about the incident, calling it his finest moment as president of France.

"That bastard [Clinton] was trying to get with my lady," Mr. Chirac said. "I'm only sorry I didn't get him in his nuts."

The French president added that he was "relieved" that the World Cup was over, explaining, "Now I won't have to listen to U2 for another four years."

Elsewhere, billions of World Cup viewers around the globe were reportedly seeking "new excuses" to start drinking first thing in the morning.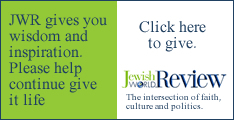 Every weekday JewishWorldReview.com publishes what many in in the media and Washington consider "must-reading". Sign up for the daily JWR update. It's free. Just click here.

Comment by clicking here.
JWR Contributor Andy Borowitz, the first-ever recipient of the National Press Club's Award for Humor, is a former president of the Harvard Lampoon,and a regular humor columnist for Newsweek.com, The New Yorker, The New York Times and TV Guide. Recognized by Esquire magazine as one of the most powerful producers in television, he was the creator and producer of the hit TV series The Fresh Prince of Bel-Air and producer of the Oscar-nominated film Pleasantville.

© 2006, Andy Borowitz