Jewish World Review July 29, 2005 / 22 Tammuz, 5765
Up to the elbows in beauty tips
By Lori Borgman


http://www.JewishWorldReview.com | My grandmother's generation may have been the last group of women to age naturally. Rarely did they hit bottom because of gray hair, wrinkles and the relentless pull of gravity. If they escaped bursitis, gout and bunions, they were happy campers.

Women today age differently. Reluctantly. Begrudgingly. If surgically possible, not at all (see Joan Rivers, Cher).

We are the generation of moisturizers, wrinkle erasers and firming lotions guaranteed to firm skin that wasn't firm 20 years ago. Short of needles, I am in there with the rest of them, working to preserve what I have left.

Frankly, I thought the battle was going reasonably well. By reasonably well I mean that were I standing next to an accident involving semi-trucks, live chickens and large circus animals, I'm fairly certain people would slow down and gasp at the accident, not the lines on my face.

And then I happened upon a disturbing item on television.

Turns out, most of us have been focused on our faces when we should have been focused on our arms. This is according to, a highly excitable woman on one of those home shopping programs.

Under different circumstances, I might find Rhonda somewhat heroic, because few women I know would extend their arms before a television camera and jiggle the flesh hanging beneath, while screaming and writhing in disgust at her own body. Rhonda said the answer to this horror is something called — ready? — The Arm Shaper.

The Arm Shaper looks like a stretch of pantyhose that was thrown out of a car window after a hold up at a convenience store. But, as Rhonda demonstrated, The Arm Shaper does not go over the head; it goes over the arms like long tube socks without feet. Rhonda slipped it on and, voila!, her arms no longer jiggled. I'm sure this was a relief to viewers everywhere, although those watching with me simply said, 'Ewwwwww! '

Despite a fascinating presentation, Rhonda failed to address the matter of what wearers of The Arm Shaper might say when asked, 'So, what's with the panty hose on your arm? '

But now Rhonda came to her final selling point. The Arm Shaper could take care of another awful, ugly, unsightly, extremely disgusting phenomena women must confront — the elbow. Yes, ladies, forget your face, your weight, your backside, your front side. Your elbows may be the most hideous, revolting sign of age.

Wonder why you didn't get the big promotion?

Elbows, honey, elbows.

Turned down for a second mortgage?

Well, what did you think with elbows like those?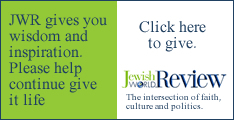 And don't you just know what all those young guys are saying when pretty girls walk by: 'Whoa! Get a load of those elbows! '

Rhonda, now wearing The Arm Shaper and pleased as punch that her flab no longer flops and her hideous elbows have been camouflaged, is a woman who will settle for nothing short of perfection.

I wonder if Rhonda has noticed the two holes at the bottom of her nose and if she is prepared to do something about those as well.

Personally, I am a function over form gal. In my book, the elbow is utilitarian: a quick jab to the husband, a self-defense weapon at the mall, a firm base for a head-in-hand nap in a chair.

I don't care how it looks, I'm just glad it works.

Maybe I'm more like my grandmother's generation than I thought.
Every weekday JewishWorldReview.com publishes what many in in the media and Washington consider "must-reading". Sign up for the daily JWR update. It's free. Just click here.
JWR contributor Lori Borgman is the author of , most recently, "Pass the Faith, Please" (Click HERE to purchase. Sales help fund JWR.) and I Was a Better Mother Before I Had Kids To comment, please click here. To visit her website click here.
© 2005, Lori Borgman