<!- end inthis -->
Jewish World Review July 1, 2003 / 1 Tamuz, 5763

Washington: Do As I Say . . .

By Daniel Pipes

http://www.jewishworldreview.com | The U.S. government has a habit of seeing the same military moves very differently, depending on whether Israeli or American forces carry them out. This inconsistency results from a misunderstanding of the nature of the Arab-Israeli conflict.


For example, "targeted killings" (executing would-be terrorists before they have a chance to organize or act) are "unhelpful" when done by Israeli troops but "very good" when done by Americans.


Thus, State Department spokesman Richard Boucher condemned Israel's September 2002 attack on Mohamed Deif: "We are against targeted killings. We are against the use of heavy weaponry in urban areas, even when it comes to people like Mohamed Deif, who have been responsible for the deaths of American citizens. We do think these people need to be brought to justice."


A few weeks after this incident, however, U.S. forces deployed an unmanned plane to drop a bomb on an Al-Qaeda operative, Ali Qaed Senyan al-Harthi, as he traveled by car in Yemen. A Pentagon official praised this as "a very successful tactical operation" to "keep the pressure on" Al-Qaeda. No talk here about bringing Harthi to justice.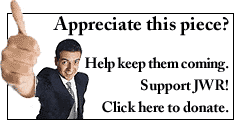 When asked about the apparent contradiction, Boucher insisted that U.S. policy on Israeli targeted killings "has not changed," adding for good measure that justifications for the U.S. action in Yemen "do not necessarily apply in other circumstances."

Commenting on this particular performance, Max Boot wrote in the Weekly Standard that "whatever Richard Boucher is paid, it's not enough. His ability to advocate a nonsensical State Department line, with a straight face, time and again, is a credit to the diplomatic profession."

Others in Washington should probably get a raise too:
Civilian casualties: An Israeli F-16 dropped a one-ton bomb in July 2002 on the residence of Salah Shehadeh, the military chief of Hamas in the Gaza Strip whom the Israelis accuse of being "directly responsible for initiating and directing dozens of attacks," killing him and fourteen others. The State Department response was severe, calling it a "heavy-handed action" that "does not contribute to peace." But when an American B-1B bomber dropped four two-ton bombs on a Baghdad restaurant in April, hoping that Saddam Hussein might be there (he seems not to have been), the fourteen innocent lives lost prompted no State Department admonishment.
Self-defense: American forces now face an intifada in Iraq (at least 63 U.S. soldiers have been killed there since major combat ended on May 1) that resembles what their Israeli counterparts deal with in the Palestinian areas. Washington policymakers permit themselves the same self-protective steps (such as shooting in self-defense at rock-throwing protestors) that they condemn on Israel's part.
Diplomacy: American officials dun Israel to negotiate with the Palestinian Authority and make concessions to it. But they themselves ceased all negotiations with the Taliban and Saddam Hussein once the fighting began in Afghanistan and Iraq, concentrating on military victory.
(w)E-THE PEOPLE
Let your voice be heard! To express your concerns about the administration's plan for the Holy Land, you may contact

President George W. Bush by fax: (202) 456-2461, (Andrew Card, Chief of Staff) or by e-mail.

Dr. Condoleeza Rice, National Security Advisor, FAX (202) 456-2883, PHONE (202) 456-9491

Mr. Elliot Abrams, the Director for Near East and North African Affairs, at FAX (202) 456-9120, and by phone through his secretary Joanna, (202) 456-9121

Donald H. Rumsfeld, Secretary of Defense, 1000 Defense Pentagon, Washington, DC 20301-1000 or by e-mail form: http://www.defenselink.mil/

Paul Wolfowitz, Deputy Secretary of Defense, 1010 Defense Pentagon, Washington, DC 20301-1010 or by e-mail form http://www.defenselink.mil
"Do as I say, not as I do" sums up the U.S. position. Hypocrisy, bias, and holding Israel to higher standards are all plausible explanations. But two others make more sense. Washington is divided, as Rand Fishbein notes in National Review: as American diplomats chastise Israel for its tactics, U.S. soldiers openly embrace many of those tactics.

Then there is the invisible assumption that Israel is engaged in a peace process while the United States is fighting a war. Richard Boucher hinted at this as he flailed about condemning Israeli targeted killings: "we all understand that the situation with regard to Israeli-Palestinian issues and the prospects of peace and the prospects of negotiation and the prospects of the need to create an atmosphere for progress."

Translation: Israel has already won its war vis-à-vis the Palestinians by getting them to accept its existence, so a diplomatic solution is on track and Jerusalem must not spoil this prospect. In contrast, the United States still has a war to win, so it can and must use real force.

Unfortunately, the past decade has shown Boucher's analysis to be faulty: the Palestinians have not accepted Israel's existence, as shown by evidence ranging from children's television shows to mosque sermons. Boucher's "prospects of peace" will remain distant until Palestinians undergo a change of heart - and that's best achieved by condoning Israeli self-protection.
Every weekday JewishWorldReview.com publishes what many in Washington and in the media consider "must reading." Sign up for the daily JWR update. It's free. Just click here.
JWR contributor Daniel Pipes is director of the Middle East Forum and the author of several books, most recently Militant Islam Reaches America. Comment by clicking here.
© 2003, Daniel Pipes