Jewish World Review July 10, 2003 / 10 Tamuz, 5763

BEWARE PALESTINIAN ROPE-A-DUPE TACTICS

By David D. Perlmutter

http://www.jewishworldreview.com | A while back I received an email from a person who identified himself as a member of the U.S. military. He was upset, he said, at one of my pro-Israel articles. Specifically, he told me that he believed that the Palestinians were in the moral right, their suicide-homicide tactics were justified, and generally that my contrary opinion "stinks."


Well, this is the United States. We are not yet slaves under the Islamo-Fascist caliphate. So, for now, we have the right to say anything and anybody stinks. So be it. But another part of his missive intrigued me. He mentioned that he was prompted to write because "a Palestinian friend" showed him the article.


Hmm, methinks something funny is afoot.


I keep all correspondence about my writings and subdivide it by category. I now have about 1200 emails in my outlook file (and over 100 paper letters) of people who have written to me in response to some article I wrote on the Middle East. It struck me as an interesting fact about that population that, to date, I have gotten NO messages from self-described Palestinians.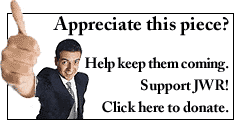 I flattered myself that they don't write because they have no facts on their side to contradict the ones I offer: The Palestinian cause is founded on lies, hate, and hysteria.

Indeed, only a handful of Muslims have ever written me--half of them to tell me how right I am that their leaders are duping them into blaming the Jews, Christians, Hindus and America for all their problems. The latter are now friends of mine. They are patriotic Muslim-Americans: they blame Muslim leaders for the problems of the Muslim world; they know that the Palestinian refugee problem was created by Arab leaders seeking to distract their own oppressed people; they love America; and they don't subscribe to ethnic hatreds and conspiracy theories.

For some reason, however, the hardcore Palestinians, don't write to me themselves and debate me one-on-one. Shyness or conspiracy?

Instead I get emails from some Irish-American or such who tells me "A Palestinian friend showed me your recent piece and. . . "

Also, I notice there are so many "front" men and women for the Palestinian cause nowadays--blue-eyed American academics, Episcopalian priests, UN High Commissioners and so on. All so hot and bothered for Palestine.

What's behind all these dupes? Well, certainly money is one lubricant. As Steve Emerson, Steven Schwartz and Robert Bear have documented, the Oil Caliphs have spread around so much cash in the power centers of academia and politics that they have bought or bought-off a legion of U.S. "Statesmen" and "intellectuals."

And, of course, hatred of Jews, is always popular. Attack Israel and get a free shot on pesky Hebrews who refuse to play their traditional role of passive victim.

But not all the Pale-Puppets are motivated by hatred or bribes. Some are genuine. They believe they are doing good and furthering the cause of "peace." Somebody has convinced them that the fantasy-inspired, cooky cause of Arafat and Hammas is a great humanitarian ideal.

Could there be a link between this general phenomenon and the empty folders of my correspondence file? Why has no actual self-described Palestinian ever attempted to debate me?

Then one of my sensible non-radical Muslim friends told me about his earlier days when he was radical. The group he was a member of instructed other radical Muslims in America to "rope-a-dope." Kiss up to gullible white and black Christian Americans and make friends with them, ply them with sob stories about the plight of the Palestinian people, downplay any radical agenda (like, say, their plan to destroy America), and generally use the dupes as a sort of rhetorical human shield. Most Christians will read their bible or use their common sense and not fall for this chicanery: some, unfortunately, do.

In other words, something that looks like a pattern of ducks pooping may indeed be a pattern of ducks pooping.

Well, that's my opinion, anyway. No doubt some American Christian will now write to me in disagreement--but he'll note as an aside "a Palestinian friend showed me your article..." Well, after they read this, they'll probably drop that line!
Every weekday JewishWorldReview.com publishes what many in Washington and in the media consider "must reading." Sign up for the daily JWR update. It's free. Just click here.
JWR contributor David Perlmutter is an associate professor of mass communication at Louisiana State University and a senior fellow at the Reilly Center for Media & Public Affairs. He is the author of, among others, Visions of War : Picturing Warfare from the Stone Age to the Cyber Age. Comment by clicking here.
04/01/03: 'Palestinians' are to blame for Fedayeen Saddam
03/27/03: Time for Muslim world to prove the West wrong
02/13/03: Don't warn me, again
01/23/03: 'Palestine' for Dummies
11/05/02: Decision '02 may well be finalized on Dec. 7
08/29/02: Should Israel go Nazi?
07/29/02: Thou shalt judge our Jewish leaders
07/11/02: The Lie of the Land
05/30/02: What did you do while Israel was destroyed?
05/21/02: George Lucas has gotta go!
04/18/02: To jump-starting the market, the animals need to be re-trained

© 2003, David Perlmutter