Jewish World Review July 18, 2003 / 18 Tamuz, 5763

Sermon On The Light Rail

By Phil Jacobs

http://www.jewishworldreview.com | BALTIMORE Sometimes to get a lesson on spirituality, all you have to do is listen, and you'll find that "message" we're all looking for. Or, sometimes it will find you.




Monday, for example. I had finished a late lunch with my daughter. She dropped me off at about 2 at the light rail stop. There aren't many people on the train at this time, because it's not rush hour. It's a hot, sunny day, and the train's air conditioning feels good. There are four other people in the train car.


I sat down, kippah and all, and started reading my Jewish Observer magazine. It's a back issue, so I'm reading about counting the Omer and the religious festival of Shavuos. By the time I settle into the article, I hear a very loud voice.


A lady, several rows behind me, was talking about G-d. The lady she was talking to was talking about G-d back to her. It was loud, it was full of purpose and full of passion. There was no pretending you didn't hear what they were talking about.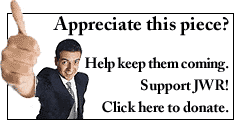 Now, I've been on the light rail many times. I've heard people holding personal conversations on their cell phones with just a little too much information than the rest of us need to hear. I've watched parents verbally discipline their kids. And I even watched as a grandfather did nothing while his two young grandsons stood in the middle of the aisle enjoying the tumble they took when the train braked. I ended up warning the kids that they could get hurt.

Be that as it may, the two women in the corner of the train were talking G-d. It was a ferocious conversation. Here are some of their words:

"A person's mood during the day is determined by the mood he has when he leaves his house. If he's in a good mood, he'll have a great day. If he's in a bad mood, forget about his day."

And that was just for starters. "We can't be judging everyone. That's G-d's job. He puts us on this Earth with love, and all that He wants in return is to behave and help one another. We're in His image."

Before more discussions came from the women, a man seated about four rows in front of me turned around, stretched out his arm and pointed his finger at them while shaking his head in affirmation at the ladies. There was only one other person on the train, who bolted out of the door when we reached Woodberry, looking at me with an expression that said, "You're on your own, kid."

There are now four of us in this car. And the man now yells to the women, "People think of all kinds of ways not to go hear the word in church. They'll blame their grandchild for something so they won't go." The women shouted back: "Amen." The man shouts back, "Amen."

This is happening on a light rail train. I bury my head deeper in my magazine, but I'm not reading a word. The woman with the loudest voice is wearing what looks like a Wal-Mart smock. She's now giving a sermon about Adam and Eve and the serpent. She talked about evil, she talked about darkness.

The man in front of me said, "How can a man say he is a giver when he keeps his fist clenched so tightly. You've got to give back to the people from your riches. That's what G-d taught."

I was caught in a crossfire of amens and G-d-talk. When we reached Mount Royal, the man in front of me got off. He said to the ladies, "Thank you. You started this. Now let's live it." One of the women thanked him back, calling him "my brother."

At my stop I had to pass the ladies to exit. I wanted to say something. But I didn't know what it was. I heard the words coming from my mouth, "Thank you, I agreed with just about everything you said. You made my day."

One of the ladies answered, "G-d bless you. Thank you. Live a wonderful day." The other woman said, "See you again."

I wonder if they'll be on the train when I go home.
Every weekday JewishWorldReview.com publishes what many in Washington and in the media consider "must reading." Sign up for the daily JWR update. It's free. Just click here.
JWR contributor Phil Jacobs is the editor of the Baltimore Jewish Times. Comment by clicking here.
© 2003, Baltimore Jewish Times