Jewish World Review July 9, 2003 / 9 Tamuz, 5763

About those 'settlements'

By Yossi Klein Halevi

http://www.jewishworldreview.com | In 1982, Israel's defense minister, Ariel Sharon, sent bulldozers into Yamit, an Israeli town of whitewashed houses located at a point where the Sinai Desert meets the Mediterranean Sea. Within hours, a thriving community of 5,000 people was reduced to rubble.




That self-inflicted wound was the price Israel paid as part of its peace treaty with Egypt. The devastation, though, wasn't just physical. Lives were uprooted and often shattered. Many former settlers divorced under the strain of relocation. Others never overcame their bitterness and sense of betrayal.


Israelis are recalling that precedent now as we face the prospect of uprooting settlements in the West Bank as part of any Mideast peace agreement with the Palestinians. And, ironically, again it is Sharon, this time as prime minister, who may be presiding over the destruction of Israeli communities — on land the international community believes should be a future Palestinian state. For the Palestinians, dismantling most settlements is a prerequisite for establishing a viable state. Giving up the settlements this time and voluntarily abandoning the claim to our historic heartland will fundamentally alter Israeli society and deeply wound the Jewish people. The enormity of this sacrifice is not appreciated by world opinion.


More than 200,000 Israelis live in the territories. And while no one imagines removing them all, even a partial uprooting will traumatize Israeli society for decades. That's why the difficulty of this concession will require recognition of the international community and a reciprocal Palestinian response.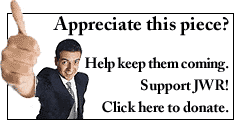 Unlike Sinai, which few Israelis considered part of the nation's historic patrimony, the West Bank — the biblical Judea and Samaria — is the birthplace of the Jewish people. And Jews carried its memory with them through centuries of exile and longing. For many Israelis, a Jewish state without Judea and Samaria is a body without a soul.
(W)E-THE PEOPLE
Let your voice be heard! To express your concerns about the administration's plan for the Holy Land, you may contact

President George W. Bush by fax: (202) 456-2461, (Andrew Card, Chief of Staff) or by e-mail.

Dr. Condoleeza Rice, National Security Advisor, FAX (202) 456-2883, PHONE (202) 456-9491

Mr. Elliot Abrams, the Director for Near East and North African Affairs, at FAX (202) 456-9120, and by phone through his secretary Joanna, (202) 456-9121

Donald H. Rumsfeld, Secretary of Defense, 1000 Defense Pentagon, Washington, DC 20301-1000 or by e-mail form: http://www.defenselink.mil/

Paul Wolfowitz, Deputy Secretary of Defense, 1010 Defense Pentagon, Washington, DC 20301-1010 or by e-mail form http://www.defenselink.mil
Even worse is a Jewish state that willingly cedes that land. No nation has ever done what Israel may be about to do to itself: voluntarily withdraw from its heartland and destroy its own communities. The mutual recriminations that will result from that process could devastate the nation.


Where Yamit was barely a decade old before being dismantled, many settlements in the West Bank are entering their fourth decade of existence — a long time in the life of this young country. And those settlements have produced a native generation of Judeans and Samarians, whose attachment to the territories isn't just ideological but instinctive.


The very word "settlements," which implies transient and artificial communities, is misleading. In fact, the settlements are thriving towns and villages, whose residents see their presence in Judea and Samaria as historically just, even miraculous.


What makes the prospect of withdrawal particularly cruel is that few Israelis believe it will lead to genuine Arab recognition of Israel's right to exist. The anti-Jewish hatred in the Arab world — encouraged even by such pro-Western regimes as Egypt and Saudi Arabia — has so deeply penetrated all levels of society that reconciliation, at least for now, seems inconceivable. Many Israelis suspect the formula of "land for peace" is a deception: After the land is handed over, there will still be no peace for Israel.


One settler I spoke to recently said, "If we knew there would be peace in exchange for withdrawal, it would at least make the sacrifice understandable. But we won't even have that consolation."


Still, most Israelis are so desperate to ease this pathological conflict they are ready to try again to negotiate a deal. Israelis realize, too, that, for the sake of Israel's future as a Jewish and a democratic state, we must end our entwinement with Palestinians, even at the price of separating from cherished land.


Most Israelis would probably acknowledge that we acted recklessly by indiscriminately settling the territories. But the blame hardly belongs to Israel alone. Those Israelis who opposed settlements were undermined by the decades-long absence of a Palestinian negotiating partner. Instead, Palestinian leaders declared they would use any territories evacuated by Israel as a base from which to destroy the Jewish state.


Israel's annexationists weren't bolstered just by rejection from the Palestinians but by Israeli security needs. Without the West Bank, Israel is barely eight miles wide at its narrowest point; a surprise attack, like the 1973 Yom Kippur War, could sever the country in minutes. By ceding its claim to Judea and Samaria, Israel will have more than earned the right for a reciprocal gesture from the Palestinians: ceding the call for the return of Palestinian refugees to pre-1967 Israel, which Israelis rightly see as a Palestinian attempt to demographically destroy the Jewish state.


The international community needs to unequivocally support Israel in that demand. One major flaw of the "road map" now being promoted for Mideast peace is that it ignores the need for a Palestinian concession on the "right of return."


Finally, the international community needs to acknowledge the risks Israel will be taking and the price it will be paying in dismantling settlements. That acknowledgment won't ease the trauma of uprooting. But it will at least reassure Israelis that their sacrifice won't be dismissed as self-evident, leaving them exposed to new Palestinian demands.

Every weekday JewishWorldReview.com publishes what many in Washington and in the media consider "must reading." Sign up for the daily JWR update. It's free. Just click here.

JWR contributor Yossi Klein Halevi is the Israel correspondent for the New Republic and the author of "Memoirs of a Jewish Extremist (Little, Brown) and, most recently, of "At the Entrance to the Garden of Eden: A Jew's Search for G-d with Christians and Muslims in the Holy Land." Comment by clicking here.

01/27/03: Sharon's journey to the center
11/19/02: What Sadat understood about Israelis and peace
10/21/02: Sharon's balancing act
10/15/02: United State
09/18/02: Despite the dangers to their own safety, Israelis strongly back Bush on Iraq
08/02/02: Terrorism won't break Israeli will: This fight is for the world's future
07/22/02: Time to take off the blinders: There is a global surge of anti-Semitism
05/01/02: The U.N. won't investigate the real tragedy
01/24/02: 'Cycle of Violence' is a Middle East lie
01/10/02: Seized ship is terror wake-up call
12/19/01: Understanding the JDL
12/04/01: Time to end the Arafat charade
11/20/01: Good try, Mr. Powell, but Mitchell Report is fundamentally flawed


© 2003, Yossi Klein Halevi