Jewish World Review July 21, 2003 / 21 Tamuz, 5763

Can't count on Arab polls for the truth

By Zev Chafets

http://www.jewishworldreview.com | Last week, pollster Khalil Shikaki turned up at the Palestinian Center for Policy and Survey Research in the West Bank city of Ramallah to deliver the findings of a new public opinion survey: According to him, most Palestinians don't want "to return" to Israel.

This amazing report was immediately disputed by several hundred Palestinian patriots. They expressed their disagreement by trashing the center and trying to lay rough hands on Shikaki himself. Fortunately, he escaped unmurdered.

In part because of this drama, the results of this poll are certain to become a fixture of Israeli-Palestinian discourse, quoted as scientific fact by journalists, experts and diplomats.

Let's take a look at what they actually mean.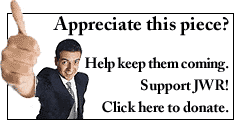 According to Shikaki, 54% of Palestinian refugee families say they are ready to accept compensation in the West Bank or Gaza. Another 17% want to stay in Lebanon or Jordan. A further 2% prefer to be relocated somewhere else altogether. Add up the numbers, and it appears that 73% of all Palestinian refugees are willing to forgo their traditional demand to move "back" to Israel.
Not only that. Shikaki said that only 10% insisted on "returning" to what is now Israel. And, as he told National Public Radio's Robert Siegel, only about 10% of that 10% would return if it meant taking Israeli citizenship.
Siegel: "So you're saying that approximately, according to this poll, about 1% of Palestinian refugees would opt for both residence and citizenship in the State of Israel."
Shikaki: "That is absolutely correct."
But (there's always a "but") Shikaki continued, "This is not an exchange for the right of return. This is in addition to the right of return."
Oh.
In fact, Shikaki said that more than 95% of those polled refuse, as a matter of principle, to give up their "right of return." They are prepared to accept something now -- a house, a farm, a few hundred thousand bucks -- as long as that compensation doesn't preclude them from making additional claims down the road.
It gets worse. Thirteen percent of refugee families reject any solution at all. Since there are, according to Palestinian claims, roughly 4 million refugees (including descendants), 13% amounts to roughly 435,000 people willing to fight to the death. Looked at this way, these are grim statistics. The good news is that they are, let's say, inexact.
In the Middle East, people don't reveal their true thoughts on controversial subjects to pollsters. Sometimes this is a matter of law --- refugees in Syria, for example, weren't queried by Shikaki because the Assad regime allows only One True Answer to all questions. Sometimes, especially in Palestinian circles, dissembling is a form of self-preservation. Opinions are dangerous --- as Shikaki's own press conference illustrated. That's why no survey is likely to provide real information on the state of Palestinian sentiment.
But if we give Shikaki the benefit of the doubt, his results are more alarming than encouraging. Very simply, if 95% of Palestinians still insist on the "right of return," there won't be any deal. It doesn't matter that a majority of Palestinians say now that they wouldn't move to Israel. As everyone knows, people change their minds.
Especially in societies where pollsters need bodyguards.
Every weekday JewishWorldReview.com publishes what many in Washington and in the media consider "must reading." Sign up for the daily JWR update. It's free. Just click here.
JWR contributor Zev Chafets is a columnist for The New York Daily News. Comment by clicking here.
© 2003, New York Daily News