James Hohmann Archives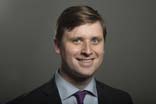 • 06/08/20 'We don't need to overreact.' Jeff Sessions says 'politically correct policing' will 'demoralize' officers
• 06/01/20 How the Minneapolis riots could -- based on precedent -- give Trump a much-needed crisis rebound
• 04/15/20 Biden's a bystander even as Bernie endorses him
• 03/10/20 Bernie Sanders, 'old white guy', believes he can woo womyn to become the Dems' Last Man Standing
• 03/03/20 Will disgust trump an avowed socialist, hurting down-ballot candidates?
• 02/19/20 Conservative intellectuals launch group to challenge free-market 'fundamentalism' on the right
• 02/11/20 Sanders is the man to beat in New Hampshire, as the anti-Bernie vote splinters
• 01/23/20 Joe Biden talks Ukraine, but not impeachment, in Iowa --- as the Senate trial complicates his messaging
• 01/20/20 Despite impeachment farcass, prez scoring legislative wins --- and Dems claim they are too
• 01/16/20 Missed: The Big Story at the Dem debate wasn't Bernie v. Liz
• 07/22/19 Five things to watch when Bob Mueller testifies
• 06/04/19 'Socialism is not the answer.' John Hickenlooper discusses his Sister Souljah moment after boos in S.F.
• 05/21/19 The Koch network is reorganizing under a new name --- and with new priorities
• 05/10/19 Facebook's political problems grow as its co-founder calls for breaking up the social network
• 04/17/19: Tax returns show 2020 Dem candidates gave to charity, but minimally --- some pathetically
• 04/16/19: The nature of cyberwar is changing
• 03/12/19: Why Bernie might be the one to beat in New Hampshire --- at least for now
• 03/06/19: John Hickenlooper is the first in a string of potential moderate candidates president
• 02/05/19: The Koch network donor retreat turns touchy-feely
• 01/15/19: Anxiety about the pace of change animates populist movements
• 12/18/18: Russian efforts to manipulate African Americans show sophistication of disinformation campaign
• 11/14/18: The Congressional Progressive Caucus pushes back against moderate House Democratic forces in House leadership elections
• 10/30/18: Dems tiptoe around Trump in competitive House races
• 10/09/18: Tech giants face big test in midterm elections
• 08/31/18: Cuomo's attacks on Nixon in testy debate reveals fears of Democratic establishment
• 06/28/18: Pelosi's predicted successor going down spotlights the looming Dem identity crisis
• 05/15/18: Lib and conservative analysts make the same discovery: Trump voters stay loyal because they feel disrespected
• 04/09/18: Koch network growing frustrated with the GOP's 2018 agenda
• 03/29/18: How Zuckerberg's Facebook is like Gutenberg's printing press
• 02/09/18: Improving poll numbers give Republicans hope that the midterms might not be so bad
• 12/18/17: Dems risk overplaying their hand by pushing for Trump's resignation
• 11/28/17: 9 issues Congress will confront in December
• 11/15/17: If they'd listened to Trump, GOPers wouldn't be facing a lose-lose situation with Moore
• 07/14/17: Bipartisan initiative to thwart election hacking gains steam
• 07/10/17: Europe trip shows how the Trump Doctrine is situational and always in flux
• 07/07/17: Principled conservatives show federalism is more than a talking point by rejecting voter data requests
• 07/05/17: Even sweeping the suburbs would not be enough for Dems to win the House majority
• 04/20/17: Wake-up call for GOP in Georgia, but Dems remain unlikely to win House in 2018
• 04/10/17: 13 questions raised by Trump's missile strikes on Syria
• 04/03/17: How President Trump's threats against the Freedom Caucus may backfire
• 03/28/17: How Trump's presidency is succeeding
• 02/27/17: As Trumpism coopts CPAC, the Reagan era ends
• 02/15/17: 10 unanswered questions after Michael Flynn's resignation
• 01/05/17: Even when Trump shows backbone, his haters refuse to give him any credit
• 12/14/16: Ayn Rand's cabinet: Tillerson, Puzder, Pompeo and Trump himself cite the author's work as a major influence
• 11/15/16: Reagan Democrats are no longer Democrats. Will they ever be again?
• 11/10/16: Why Trump won --- and why the media missed it • 10/12/16: The five most important questions guiding the final month of the campaign
• 08/11/16: 7 reasons Hillary Clinton's agenda would founder in Congress
• 07/29/16: Dems claim patriotism, Religion and American exceptionalism at convention
• 05/02/16: 10 reasons Cruz's Fiorina gambit will likely flop • 03/31/16: The Dem convention in Philadelphia could be even messier
• 03/30/16: Rift over social issues tears Republicans' base
• 03/03/16: Why Ted Cruz might be the last, best hope for conservatives to stop Donald Trump after Super Tuesday
• 02/25/16: Trump's romp in Nevada shows why the establishment's conventional wisdom about his ceiling may be wrong
• 02/24/16: Inside Marco Rubio's suburban strategy

• 02/23/16: Trump seen as losing South Carolina debate