<!- end inthis -->
Jewish World Review June 8, 2010 / 26 Sivan, 5770
Germany's dangerous code of silence
By Anne Applebaum
http://www.JewishWorldReview.com | BERLIN--- Last week the president of Germany quit his job. Just like that. "I declare my resignation from the office of president," said Horst Koehler, "with immediate effect." And he walked away.
Koehler was, he said, merely responding to criticism: He had been widely attacked for remarks he made during a trip to Afghanistan last month, so much so that he felt he could not continue. The German president is a ceremonial figurehead, elected by parliament, and in theory he is not supposed to say anything contentious. Having been accused of violating this convention, he quit.
So far, so ordinary. But before you shrug and say "that could happen in any country," read what Koehler said that sparked so much criticism: "A country of our size, with its focus on exports and thus reliance on foreign trade, must be aware that . . . military deployments are necessary in an emergency to protect our interests."
In the United States, Britain or France, no one would even notice such a statement. But in Germany, Koehler broke two major taboos. First, he admitted that the German military is in Afghanistan for a military purpose, once again undermining the public's firm belief that their soldiers do charity work. (Fighting is for Americans. Germans build roads.) Last September this fiction was blown open when German forces in Kunduz called for American airstrikes, which in turn killed 90 Afghan civilians.
The public was angered by the mistake but was even more disturbed to hear that German troops sometimes call upon American troops for help. That implies that Germany is part of a coalition that is actually fighting a war -- a fact that few German politicians have ever had the nerve to convey to voters. In Afghanistan a couple of years ago, I met a German pilot flying south from Kabul to the rougher part of the country; he wouldn't give his name to a German journalist traveling with me, on the grounds that Germans weren't supposed to be flying to the south -- even though circumstances and alliance requirements sometimes force them to -- and he didn't want to start a controversy.
But Koehler's second blunder was worse: By declaring that Germany is a large country with a large export sector and economic interests around the world, Koehler broke the even more powerful taboo forbidding German politicians to speak of any use of the military in any foreign engagement. Germany's passivity is a matter of national pride, German pacifism is written into its constitution, and Germans don't talk about themselves as "a country of our size." In polite company, Germans never, ever talk about using the military "in an emergency to protect our interests."
Yet as time goes on, as World War II fades into history and as even the Cold War becomes a distant memory, Germany's conventional way of speaking about itself is becoming increasingly unreal. Germany is indeed a large country, the largest in Europe: When Greece got into trouble and the euro had to be bailed out, it was Germany that made the major decisions and Germany that pushed hardest for draconian Greek economic reforms. If it all goes wrong, Germany may well be blamed.
Germany really does have many economic interests outside of Europe, too, including in several countries that could well present military challenges to the West someday. Iran -- where Germany is one of the largest outside investors -- comes to mind, as do China and Russia. In an Iranian-Israeli fight, would pacifist Germany stay neutral? What if China attacked Taiwan, or Russia went to war with Ukraine?
I am not suggesting that any of these conflicts should or will occur, nor would I necessarily want Germany to join them if they did. I don't want Germany to re-arm, go to war or even pick fights with anybody, either. But it does seem strange that the president of a country whose economy depends on exports -- including exports to authoritarian and militaristic regimes -- is not allowed to ponder aloud the possible military consequences of its economic policies. Americans sometimes make the mistake of thinking that every conflict has a military solution. But it is equally myopic to pretend that no conflict will ever have a military solution, and dangerous not even to talk about it.
Every weekday JewishWorldReview.com publishes what many in the media and Washington consider "must-reading". Sign up for the daily JWR update. It's free. Just click here.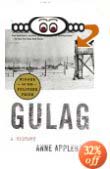 APPLEBAUM'S LATEST
Gulag: A History
Nearly 30 million prisoners passed through the Soviet Union's labor camps in their more than 60 years of operation. This remarkable volume, the first fully documented history of the gulag, describes how, largely under Stalin's watch, a regulated, centralized system of prison labor-unprecedented in scope-gradually arose out of the chaos of the Russian Revolution. Fueled by waves of capricious arrests, this prison labor came to underpin the Soviet economy. JWR's Applebaum, a former Warsaw correspondent for the Economist and a regular contributor to the Wall Street Journal and the Washington Post, draws on newly accessible Soviet archives as well as scores of camp memoirs and interviews with survivors to trace the gulag's origins and expansion Sales help fund JWR.
Comment on JWR contributor Anne Applebaum's column by clicking here.

Previously:

06/02/10: Can the Brits play nice?
05/11/10: Greece's stubborn surrender
05/04/10: Another human-rights irony at the U.N.
04/27/10: Britain's spot of Tea Party
04/13/10: Out of tragedy, a detente of sorts between Russia, Poland
03/25/10: From Britain's Tories, lessons for the GOP
03/16/10: Britain and America both have center-left leaders, but the two nations are further apart than ever
03/09/10: Germany Is Tired of Paying Europe's Bills
03/02/10: Chile will survive the earthquake because its democracy works
02/23/10: Prepare for war with Iran — in case Israel strikes
02/17/10: America's Greek tragedy?
02/09/10: The Big Problem With Big Solutions
01/26/10: India's model of reflective patriotism
01/12/10: Haiti's man-made disasters
01/12/10: We need a smarter way to fight the jihadi elite
01/05/10: How every year we waste millions on wasteful homeland-security projects
12/30/09: The next decade will be bad for authoritarian regimes except one
12/15/09: The Apocalypse Is Not Upon Us

11/24/09: Superpower without a partner 11/17/09: Why has the global response to swine flu been so politicized?
11/10/09: After the wall fell
11/03/09: Angela Merkel's Quiet Revolution
10/20/09: Will the President of Europe Be a Gifted Pol or a Compromising Bureaucrat?
09/29/09:What Is Iran Afraid Of?
09/22/09: Letting Europe Drift
09/17/09: Greed and fear are proving stronger than companies' commitment to free speech
09/08/09: Will Obama Fight For Afghanistan?
09/01/09: The Polish Prologue
08/20/09: Why Afghans Need a Vote
07/29/09: No Burqa For Clinton
07/14/09: The Summit of Green Futility
07/09/09: Obama Puts Medvedev Ahead of Putin
06/30/09: In Morocco, an alternative to Iran
06/23/09: An overlooked force in Iran
06/16/09: Some good in a bad election
06/09/09: Why Is the Right Doing So Well in Europe?
06/02/09: Is China Pulling Strings in North Korea?
05/26/09: What a Member of Parliament Deserves
04/22/09: The Twitter Revolution That Wasn't
04/14/09: Do we really need interactive exhibits to bring Jefferson to life?
04/07/09: No Nukes? No Thanks: Obama's odd obsession with universal nuclear disarmament
03/31/09: What's Loud, Unnecessary, and Costs $75 Million?
03/23/09: Ctrl-Alt-Diplomacy
03/03/09: European Disunion
02/24/09: Who cares what Hillary Clinton says to China's leaders about human rights?
02/17/09: Witless protection
02/10/09: Our Ticket Out of Afghanistan
01/27/09:Why some foreigners can't believe Obama won the presidency fair and square
01/20/09: A Flight Test for All of Us
01/14/09: Europe's New Cold War
01/07/09: Pointless Peace Proposals
12/30/08: The magnificent rhetorical legacy of the Founding Fathers
12/23/08: Do riots in Athens portend demonstrations in Paris and Cincinnati?
12/16/08: Breach of Trust: Bernard Madoff's massive fraud will cripple American capitalism
12/09/08: In praise of charismatic politicians
12/03/08: Moscow's Empire of Dust
11/20/08: Getting Past Mythmaking In Georgia
11/12/08: In Praise of Political Rock Stars
10/03/08: Election Day myths you must resist
09/30/08: Not just a metaphor: Lehman Brothers was economic's 9/11
09/04/08: Class of '64
08/28/08: Did Hillary really help the Barack cause?
08/27/08: 'Show of Power,' Indeed
08/19/08: What Is Russia Afraid Of?
08/13/08: When China Starved
08/11/08: Two of the world's rising powers are strutting their stuff
08/05/08: How Alexander Solzhenitsyn's The Gulag Archipelago changed the world
07/29/08:'The Hour of Europe' Tolls Again … But are European politicians up to the task?
07/15/08: Why Does Obama Want To Campaign in Berlin?
07/01/08: Citizen Athletes: How did a guy who can't speak Polish end up scoring Poland's only goal of Euro 2008?
06/24/08: Why do we expect presidential candidates to be kind?
06/17/08: Pity the Poor Eurocrats
06/12/08: Is the World Ready for a Black American President?
05/28/08: The Busiest Generation: America seems to value its children's status and achievements over their happiness
05/20/08: Leave Hitler Out of It: The craze for injecting the Nazis into political debate must end
05/13/08: A Drastic Remedy: The case for intervention in Burma
05/07/08: A Warning Shot From Moscow?
04/23/08: Radio to stay tuned to
04/17/08: China learns the price of a few weeks of global attention
04/01/08: Head scarves are potent political symbols
03/26/08: The Olympics are the perfect place for a protest
03/19/08: Could Tibet bring down modern China?
03/12/08: Have political autobiographies made us more susceptible to fake memoirs?
03/05/08: Why does Russia bother to hold elections?
02/20/08: Kosovo is a textbook example of the law of unintended consequences
02/06/08: A Craven Canterbury Tale
02/06/08: French prez' whirlwind romance reminds voters of his political recklessness

© 2009, Anne Applebaum. By permission of the author
Columnists
Toons
Lifestyles