Jewish World Review June 9, 2009 / 17 Sivan 5769
Why Is the Right Doing So Well in Europe?
By Anne Applebaum


http://www.JewishWorldReview.com | We've been waiting and waiting, but the widely predicted European backlash—against capitalism, free markets, and the right—has never come. There are no demands for Marxist revolution, no calls for nationalization of industry, not even a European campaign for what the Obama administration calls "stimulus"—a policy more colloquially known as "massive government spending."

On the contrary, in last weekend's European parliamentary elections, capitalism triumphed, at least in its mushy European form. Admittedly, these European polls are a peculiar species of election. Far fewer people vote in them than vote in national elections, and those who do vote are far vaguer about what their Euro deputies actually do once they are elected to the European legislature. The European parliament's gradual accumulation of real power seems to have had no effect whatsoever on its popular image, which is still that of a do-nothing institution composed of clapped-out politicians who cost everybody a fortune in airplane tickets. As a result, fringe parties, including the so-called far right, always attract protest voters and do unusually well.

Nevertheless, European parliamentary elections also provide the only cross-continental simultaneous political snapshot currently available. Although national elections take place at different times and according to different national rules, these most recent, largest-ever European elections took place over a four-day period, according to the same rules, in 27 countries. This time around, with some exceptions, they told an unusually consistent story.

In France, Germany, Italy, and Poland—four of Europe's six largest countries—center-right governments got unexpectedly enthusiastic endorsements. In the two other large countries, Britain and Spain, left-wing ruling parties got hammered, as did socialists in Hungary, Austria, Estonia, and elsewhere. In some places the results were stark indeed: In London this weekend, I could hardly walk down the street without being assaulted by angry, screaming newspaper headlines, all declaring the Labor government of Prime Minister Gordon Brown weak, corrupt, tired, arrogant, and, yes, very unpopular. In some constituencies, European candidates of the ruling Labor Party finished behind fringe parties that normally don't get noticed at all. So rapidly are British ministers resigning from the Cabinet that it's hard to keep track of them (four in the last week—I think).

But how is it possible that the European right is doing so well—and so much better than their U.S. counterparts—during what is widely described as a crisis of global capitalism? At least in part, the Europeans are winning because their leaders have the courage of their economic convictions. While it is true that the continental European welfare states have kicked into high gear over the last six months, there are few equivalents of either George W. Bush's budget deficits or Barack Obama's spending binge. And where there have been—in Britain, for example—the high spending has hardly bought popularity. The theoretical version of this Euro-American policy gap is the recent public spat between economic historian Niall Ferguson and economist Paul Krugman, both of whom are at least as well known for their newspaper polemics as for their academic writing. Very crudely, Ferguson and the German government think massive deficits and government borrowing will lead to inflation and ultimately the collapse of the currency. Equally crudely, Krugman and the U.S. administration think he's wrong.

For the record, Ferguson is, at least by origin, a British Tory. For the record, there aren't any U.S. Republican polemicists making the same arguments in quite as public a way. With a few exceptions, the American center-right's loudest and most articulate voices have been focused almost exclusively on national security for the better part of the last decade. Lip service was paid to "small government" and "reduced spending" while successive Republican Congresses, hand in hand with a Republican White House, enlarged government and spent like crazy. How can they now criticize Obama's possibly lethal budget deficits when their own were so vast, so recently?

None of this is to say that any of Europe's conservatives would necessarily go down well in the United States. (Picture Silvio Berlusconi, paparazzi and alleged teenage mistresses in tow, campaigning in Mississippi.) It's also true that they don't necessarily have much in common: Allegedly, German Chancellor Angela Merkel and French President Nicolas Sarkozy can hardly stand to be in the same room at the same time. But if nothing else, the success of the European center-right during the current crisis proves that there is something to their political formula. They are fiscally conservative. They are, if not socially liberal, then at least socially centrist. They haven't been swayed by the fashion for big spending. They are trying to keep some semblance of budget sanity. And, at least at the moment, they win elections.
Every weekday JewishWorldReview.com publishes what many in the media and Washington consider "must-reading". Sign up for the daily JWR update. It's free. Just click here.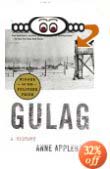 APPLEBAUM'S LATEST
Gulag: A History
Nearly 30 million prisoners passed through the Soviet Union's labor camps in their more than 60 years of operation. This remarkable volume, the first fully documented history of the gulag, describes how, largely under Stalin's watch, a regulated, centralized system of prison labor-unprecedented in scope-gradually arose out of the chaos of the Russian Revolution. Fueled by waves of capricious arrests, this prison labor came to underpin the Soviet economy. JWR's Applebaum, a former Warsaw correspondent for the Economist and a regular contributor to the Wall Street Journal and the Washington Post, draws on newly accessible Soviet archives as well as scores of camp memoirs and interviews with survivors to trace the gulag's origins and expansion Sales help fund JWR.
Comment on JWR contributor Anne Applebaum's column by clicking here.

Previously:
06/02/09: Is China Pulling Strings in North Korea?
05/26/09: What a Member of Parliament Deserves
04/22/09: The Twitter Revolution That Wasn't
04/14/09: Do we really need interactive exhibits to bring Jefferson to life?
04/07/09: No Nukes? No Thanks: Obama's odd obsession with universal nuclear disarmament
03/31/09: What's Loud, Unnecessary, and Costs $75 Million?
03/23/09: Ctrl-Alt-Diplomacy
03/03/09: European Disunion
02/24/09: Who cares what Hillary Clinton says to China's leaders about human rights?
02/17/09: Witless protection
02/10/09: Our Ticket Out of Afghanistan
01/27/09:Why some foreigners can't believe Obama won the presidency fair and square
01/20/09: A Flight Test for All of Us
01/14/09: Europe's New Cold War
01/07/09: Pointless Peace Proposals
12/30/08: The magnificent rhetorical legacy of the Founding Fathers
12/23/08: Do riots in Athens portend demonstrations in Paris and Cincinnati?
12/16/08: Breach of Trust: Bernard Madoff's massive fraud will cripple American capitalism
12/09/08: In praise of charismatic politicians
12/03/08: Moscow's Empire of Dust
11/20/08: Getting Past Mythmaking In Georgia
11/12/08: In Praise of Political Rock Stars
10/03/08: Election Day myths you must resist
09/30/08: Not just a metaphor: Lehman Brothers was economic's 9/11
09/04/08: Class of '64
08/28/08: Did Hillary really help the Barack cause?
08/27/08: 'Show of Power,' Indeed
08/19/08: What Is Russia Afraid Of?
08/13/08: When China Starved
08/11/08: Two of the world's rising powers are strutting their stuff
08/05/08: How Alexander Solzhenitsyn's The Gulag Archipelago changed the world
07/29/08:'The Hour of Europe' Tolls Again … But are European politicians up to the task?
07/15/08: Why Does Obama Want To Campaign in Berlin?
07/01/08: Citizen Athletes: How did a guy who can't speak Polish end up scoring Poland's only goal of Euro 2008?
06/24/08: Why do we expect presidential candidates to be kind?
06/17/08: Pity the Poor Eurocrats
06/12/08: Is the World Ready for a Black American President?
05/28/08: The Busiest Generation: America seems to value its children's status and achievements over their happiness
05/20/08: Leave Hitler Out of It: The craze for injecting the Nazis into political debate must end
05/13/08: A Drastic Remedy: The case for intervention in Burma
05/07/08: A Warning Shot From Moscow?
04/23/08: Radio to stay tuned to
04/17/08: China learns the price of a few weeks of global attention
04/01/08: Head scarves are potent political symbols
03/26/08: The Olympics are the perfect place for a protest
03/19/08: Could Tibet bring down modern China?
03/12/08: Have political autobiographies made us more susceptible to fake memoirs?
03/05/08: Why does Russia bother to hold elections?
02/20/08: Kosovo is a textbook example of the law of unintended consequences
02/06/08: A Craven Canterbury Tale
02/06/08: French prez' whirlwind romance reminds voters of his political recklessness

© 2009, Anne Applebaum. By permission of the author