Jewish World Review June 28, 2006 / 2 Tamuz, 5766
Spying concerns prove well-founded
By Joe Scarborough


http://www.JewishWorldReview.com | The Bush spy scandal took a nasty turn as the White House turns all guns toward The New York Times, accusing the most powerful newspaper in the world of aiding and abetting terrorists intent on killing Americans and harming this country.

The president's angst was focused on the Times for revealing to the world a top-secret program that allows the feds to track Americans' bank records and financial transactions.

As if a good scolding from the commander-in-chief wasn't enough, the vice president also blasted the entire journalistic community for rewarding reporters for damaging national security.

Treasury Secretary John Snow also piled on for good measure, telling the editor of the Times that his paper's disclosure of the top-secret program was "irresponsible and harmful to the security of Americans and freedom-loving people worldwide. I am deeply disappointed in The New York Times." Editor Bill Keller responded in kind, telling the treasury secretary that our founders rejected the idea that it is wise or patriotic to always take the president at his word or to surrender to the government important decisions about what to publish.

While being battered by executive branch types all day, Mr. Keller could list at least one former president who backed his position: Thomas Jefferson.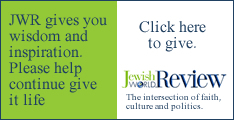 The sage of Monticello once wrote, "Were it left to me to decide whether we should have a government without newspapers, or newspapers without a government, I should not hesitate a moment to prefer the latter."

But it seems, at least for the time being, that we are stuck with both, as well as congressmen who are now suggesting that The New York Times, the Los Angeles Times and The Wall Street Journal may be guilty of treason, citing the Espionage Act of 1917, which made it a crime to reveal information regarding an armed forces operation.

Last month I warned Americans that this NSA phone records program could lead us to a point where the feds would go after bank records next. I was, unfortunately, correct.

It's scary, more so to those of us who know how Washington works and know how power can corrupt and be abused. I believe we are in dangerous times for those of us who believe, like Jefferson, that Washington is not to be trusted with unlimited police power.
Every weekday JewishWorldReview.com publishes what many in in the media and Washington consider "must-reading". Sign up for the daily JWR update. It's free. Just click here.
Former Congressman Joe Scarborough (R-Fla.) hosts "Scarborough Country," 10 p.m. ET, weeknights on MSNBC. He is the author of the recently published "Rome Wasn't Burnt in a Day : The Real Deal on How Politicians, Bureaucrats, and Other Washington Barbarians are Bankrupting America". (Click HERE to purchase. Sales help fund JWR.)Comment by clicking here.
© 2006, MSNBC