Jewish World Review June 22, 2006 /26 Sivan, 5766
Brad Pitt to get dental checkup in Namibia
By Andy Borowitz
X-rays to be sold for charity
http://www.JewishWorldReview.com | A spokesperson for Brad Pitt said today that the actor would have what was described as a "routine dental checkup" in the African nation of Namibia later this month.

The spokesperson, Carol Foyler, said that Mr. Pitt decided to have his teeth cleaned in Namibia because the Namibian government afforded the actor a higher level of security than the U.S. government was willing to offer.

"Namibia is willing to seal its borders for the entire duration of Brad's dental visit," Ms. Foyler said. "The U.S. was not."

Namibia said it was also prepared to put its military on high alert while Mr. Pitt was having his teeth cleaned and that it would enforce a no-fly zone over the dentist's office, Ms. Foyler confirmed.

While some Namibians expressed concern that Mr. Pitt and wife Angelina Jolie's medical excursions to their country are interrupting everyday life in Namibia, Ms. Foyler was quick to note that the actor's dental appointment in Africa was serving a greater good.

"Brad's dental x-rays are going to be sold and the proceeds will go to charity," Ms. Foyler said, adding that People Magazine had already made a preemptive offer and planned to run his bicuspids on the magazine's cover.

But even as Mr. Pitt was gearing up for his historic teeth-cleaning in Namibia, Ms. Foyler said that plans for a return visit were underway: "If all goes well, he may go back there to see the podiatrist in the fall."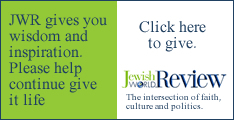 Every weekday JewishWorldReview.com publishes what many in in the media and Washington consider "must-reading". Sign up for the daily JWR update. It's free. Just click here.

Comment by clicking here.
JWR Contributor Andy Borowitz, the first-ever recipient of the National Press Club's Award for Humor, is a former president of the Harvard Lampoon,and a regular humor columnist for Newsweek.com, The New Yorker, The New York Times and TV Guide. Recognized by Esquire magazine as one of the most powerful producers in television, he was the creator and producer of the hit TV series The Fresh Prince of Bel-Air and producer of the Oscar-nominated film Pleasantville.

© 2006, Andy Borowitz