Jewish World Review June 20, 2006 /24 Sivan, 5766
Zarqawi posthumously named al-Qaeda's employee of the month
By Andy Borowitz
Terrorist worked well with others, kept work area clean, says bin Laden
http://www.JewishWorldReview.com | In a new videotape broadcast today on the Arabic-language Al-Jazeera network, terror mastermind Osama bin Laden named fallen terrorist Abu Musab al-Zarqawi Al-Qaeda's "Employee of the Month" for June.

In the tape, in which Mr. bin Laden is shown holding the terror network's "Employee of the Month" plaque and then hanging it up on the wall of his cave, the Al-Qaeda kingpin had high words of praise for Mr. al-Zarqawi, who was killed two weeks ago by a five-hundred pound bomb.

"Abu Musab al-Zarqawi worked well with others, and always kept his work area clean," Mr. bin Laden said. "For this, I hereby name him Al-Qaeda's Employee of the Month for June."

Intelligence sources believe that by posthumously bestowing the "Employee of the Month" award upon the deceased terrorist, Mr. bin Laden may be trying to entice other madmen to assume Mr. al-Zarqawi's position as number three man in al-Qaeda, a job whose previous occupants have been captured, imprisoned or killed.

But "easier said then done," says Hassan El-Medfaai, head of al-Qaeda's human resources department and the man responsible for recruiting future number threes.

"Back in the day, when I would interview prospective terrorists, all they wanted to talk about was jihad," says Mr. El-Medfaai. "Now they're asking a lot about benefits."

"Seventy-two virgins won't seal the deal anymore," he says. "These guys all want dental."

Elsewhere, Microsoft founder Bill Gates announced that he would be stepping down from his day-to-day responsibilities at the company, saying that he wanted to spend more time with his money.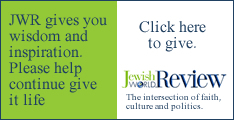 Every weekday JewishWorldReview.com publishes what many in in the media and Washington consider "must-reading". Sign up for the daily JWR update. It's free. Just click here.

Comment by clicking here.
JWR Contributor Andy Borowitz, the first-ever recipient of the National Press Club's Award for Humor, is a former president of the Harvard Lampoon,and a regular humor columnist for Newsweek.com, The New Yorker, The New York Times and TV Guide. Recognized by Esquire magazine as one of the most powerful producers in television, he was the creator and producer of the hit TV series The Fresh Prince of Bel-Air and producer of the Oscar-nominated film Pleasantville.

© 2006, Andy Borowitz