Jewish World Review June 14, 2006 /18 Sivan, 5766
Al-Qaeda chooses Zarqawi's successor on reality show
By Andy Borowitz
'Jihadist Idol' debuts on Al-Jazeera
http://www.JewishWorldReview.com | The al-Qaeda terror network today named a successor to fallen terror mastermind Abu Musab al-Zarqawi on a reality show broadcast on the Arabic-language al-Jazeera network entitled "Jihadist Idol."

After performing well in several hotly-contested talent categories, Sheikh Abu Hamza al-Muhajir emerged as the favorite of al-Qaeda terrorists worldwide, who jammed al-Jazeera's switchboards to cast their votes for the terror group's newest star.

The broadcast, which was watched by millions of jihadist madmen worldwide, featured a trio of judges led by al-Qaeda leader Osama bin Laden, whose judging style was described by one network source as "like Simon Cowell, only nicer."

According to the source, al-Qaeda decided to choose Zarqawi's successor on a reality show because "being able to perform on television is becoming an increasingly important part of a terror mastermind's skill-set."

"Most people think that a terrorist's job consists of blowing things up, kidnapping people or sabotaging oil pipelines," the source said. "The fact is, the average al-Qaeda leader spends most of his time saying scary things into a TV camera."

While Sheikh Abu Hamza al-Muhajir scored well in such talent categories as "Making Spooky Videos," "Calling for Death to America," and "Looking Convincing Holding a Machine Gun," the source said the jury is still out as to whether Zarqawi's successor has what it takes to succeed.

"There really should be a talent category called 'Surviving a 500-Pound Bomb,'" the source said.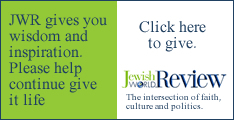 Every weekday JewishWorldReview.com publishes what many in in the media and Washington consider "must-reading". Sign up for the daily JWR update. It's free. Just click here.

Comment by clicking here.
JWR Contributor Andy Borowitz, the first-ever recipient of the National Press Club's Award for Humor, is a former president of the Harvard Lampoon,and a regular humor columnist for Newsweek.com, The New Yorker, The New York Times and TV Guide. Recognized by Esquire magazine as one of the most powerful producers in television, he was the creator and producer of the hit TV series The Fresh Prince of Bel-Air and producer of the Oscar-nominated film Pleasantville.

© 2006, Andy Borowitz