Jewish World Review June 8, 2006 /12 Sivan, 5766
Millions struggling with loss of Couric
By Andy Borowitz
Medical establishment grapples with epidemic of Couric-related disorders
http://www.JewishWorldReview.com | In the immediate aftermath of Katie Couric's departure from NBC's "Today" show, millions of Americans are struggling to cope with the gaping void in their lives that the perky morning host's exit has caused, medical professionals confirmed today.

According to the National Institute of Mental Health, a virtual epidemic of Couric-related disorders has spread across the country in the days following Ms. Couric's farewell episode of "Today" as viewers who were emotionally dependent upon the veteran television personality have felt increasingly listless and lost without her.

"Next to death, divorce, and disease, the loss of a longtime television personality is the greatest trauma a person can suffer," says Dr. Carol Foyler, a mental health professional. "People suffered a similar loss when Sarah Jessica Parker stopped doing 'Sex in the City,' but then she popped up right away again in those Gap ads."

Dr. Foyler says that to many Americans who have depended on Ms. Couric for their sanity, her departure from "Today" was "far too abrupt and traumatic."

"They feel angry that the media did not prepare them at all for her exit," Dr. Foyler says. "There simply was not enough fanfare — one day she was there and the next she was gone."

While the mental health community struggles to help those suffering from Couric-derived afflictions, Dr. Foyler says that there are lessons to be learned from their current woes: "Mental health professionals will be much better prepared when Al Roker leaves."

Elsewhere, a new study reports that road rage in the U.S. has decreased sharply because it is now too expensive to drive.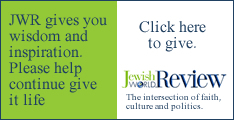 Every weekday JewishWorldReview.com publishes what many in in the media and Washington consider "must-reading". Sign up for the daily JWR update. It's free. Just click here.

Comment by clicking here.
JWR Contributor Andy Borowitz, the first-ever recipient of the National Press Club's Award for Humor, is a former president of the Harvard Lampoon,and a regular humor columnist for Newsweek.com, The New Yorker, The New York Times and TV Guide. Recognized by Esquire magazine as one of the most powerful producers in television, he was the creator and producer of the hit TV series The Fresh Prince of Bel-Air and producer of the Oscar-nominated film Pleasantville.

© 2006, Andy Borowitz