Jewish World Review June 7, 2006 /11 Sivan, 5766
Chertoff cuts anti-terror funding; asks Osama to cut terror funding
By Andy Borowitz
Homeland Security boss makes pitch to budget-conscious bin Laden
http://www.JewishWorldReview.com | Days after cutting anti-terror funding for New York City, Homeland Security Secretary Michael Chertoff reached out to Osama bin Laden today to suggest that the al Qaeda boss in turn cut his terror funding for New York.

"Today I am slashing my department's anti-terror budget for New York," Mr. Chertoff wrote in a letter to Mr. bin Laden that was released to the media today. "Needless to say, this is a unique opportunity for you to slash your terror budget for New York."

While Mr. Chertoff's overture to Mr. bin Laden struck many in Washington as highly unorthodox, the Homeland Security chief told reporters that he was appealing to "the budget-conscious side of Osama bin Laden."

"Just like me, Osama bin Laden has budgetary concerns, and that's where the two of us are on common ground," Secretary Chertoff said. "I can't afford to protect everything, and he can't afford to attack everything -- so this proposal is truly a win-win."

But even as Mr. Chertoff was explaining his proposal to the Washington press corps, Mr. bin Laden appeared on the Arabic-language al-Jazeera network to rebuff the Homeland Security Secretary's deal.

"Here at al-Qaeda, we do not have any budgetary concerns," a chilly bin Laden said in the broadcast. "We have a very low overhead."

In Washington, Secretary Chertoff was philosophical about Mr. bin Laden's response: "Oh well, it was worth a shot."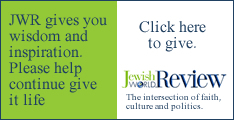 Every weekday JewishWorldReview.com publishes what many in in the media and Washington consider "must-reading". Sign up for the daily JWR update. It's free. Just click here.

Comment by clicking here.
JWR Contributor Andy Borowitz, the first-ever recipient of the National Press Club's Award for Humor, is a former president of the Harvard Lampoon,and a regular humor columnist for Newsweek.com, The New Yorker, The New York Times and TV Guide. Recognized by Esquire magazine as one of the most powerful producers in television, he was the creator and producer of the hit TV series The Fresh Prince of Bel-Air and producer of the Oscar-nominated film Pleasantville.

© 2006, Andy Borowitz