Jewish World Review June 1, 2006 /5 Sivan, 5766
China calls U.S. loans; demands California as repayment
By Andy Borowitz
Golden State to become China's East Coast
http://www.JewishWorldReview.com | In a move guaranteed to roil the world economy, China today called all of its loans to the United States and demanded the State of California as repayment.

For years, economists have seen the U.S.'s heavy debt burden to China as something of a ticking bomb, but few anticipated that Chinese President Hu Jintao would insist that the U.S. repay the loans by signing over ownership to the Golden State.

But according to University of Minnesota economist Davis Logsdon, owning California would give the Chinese an opportunity to reverse its longstanding relationship with the U.S.: "China would own the Hollywood film business, and the U.S. would have to settle for pirated DVDs."

For the White House, losing California could be good news, since the state has voted blue in the last few presidential elections and is home to such high-profile Hollywood liberals as Barbra Streisand and Steven Spielberg.

But the move could be bad news for Governor Arnold Schwarzenegger, who, according to one aide, "has spent his entire life trying to become President of the United States and doesn't want to start all over again in China."

Perhaps responding to pressure from Gov. Schwarzenegger, President Bush today asked China if it would drop its demand for California and instead accept two other blue states, New York and Massachusetts.

For his part, President Hu released a terse statement suggesting that China would not waver in its demand: "No substitutions."

Elsewhere, in a move that may discourage future immigration to the United States, Paris Hilton announced that she would release an album of her singing.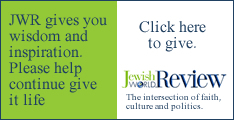 Every weekday JewishWorldReview.com publishes what many in in the media and Washington consider "must-reading". Sign up for the daily JWR update. It's free. Just click here.

Comment by clicking here.
JWR Contributor Andy Borowitz, the first-ever recipient of the National Press Club's Award for Humor, is a former president of the Harvard Lampoon,and a regular humor columnist for Newsweek.com, The New Yorker, The New York Times and TV Guide. Recognized by Esquire magazine as one of the most powerful producers in television, he was the creator and producer of the hit TV series The Fresh Prince of Bel-Air and producer of the Oscar-nominated film Pleasantville.

© 2006, Andy Borowitz