Jewish World Review June 29, 2005 / 22 Sivan, 5765
Tom Cruise bids farewell to Earth
By Andy Borowitz
Returns to planet of origin on eve of film's debut
http://www.JewishWorldReview.com | Actor Tom Cruise stunned the worlds of cinema and space travel today, bidding Earth farewell forever as he returned to his planet of origin.

At a launch pad on the outskirts of Malibu constructed specifically for his intergalactic journey, Mr. Cruise spoke briefly to friends, well-wishers, and Larry King, who was covering the launch for CNN.

"Farewell, earthlings," Mr. Cruise told the crowd. "My work here is done."

The actor then engaged in a twenty-minute kiss with his fiancée, Katie Holmes, whom he said he would "send for later."

Boarding the spaceship, Mr. Cruise delighted the crowd with the thumbs-up gesture he immortalized in the film "Top Gun," then told them, "I feel the need… for speed," before disappearing into the stratosphere.

While many had expected Mr. Cruise to return to his own planet at some point, the timing of his departure took many by surprise, coming as it did on the eve of the debut of his summer blockbuster, "War of the Worlds."

Executives at Paramount Pictures, who produced the film, expressed concern that Mr. Cruise's departure from the solar system would limit his availability to appear on the late-night talk shows.

But according to Buddy Schlantz, a veteran talent agent and observer of the Hollywood scene, Mr. Cruise's decision to return to his planet before the film's opening may be a masterstroke: "If Tom Cruise wanted to do something to make himself more popular, leaving Earth forever was a great place to start."

Elsewhere, in a deeply divided decision, the United States Supreme Court allowed the Texas State Capitol to display The Five Commandments.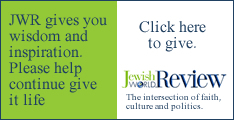 Every weekday JewishWorldReview.com publishes what many in in the media and Washington consider "must-reading". Sign up for the daily JWR update. It's free. Just click here.

Comment by clicking here.
JWR Contributor Andy Borowitz, the first-ever recipient of the National Press Club's Award for Humor, is a former president of the Harvard Lampoon,and a regular humor columnist for Newsweek.com, The New Yorker, The New York Times and TV Guide. Recognized by Esquire magazine as one of the most powerful producers in television, he was the creator and producer of the hit TV series The Fresh Prince of Bel-Air and producer of the Oscar-nominated film Pleasantville.

© 2005, Andy Borowitz