Jewish World Review June 20, 2005 / 13 Sivan, 5765
Scientologists call Tom Cruise 'too weird'
By Andy Borowitz
Rare excommunication a setback for Hollywood star
http://www.JewishWorldReview.com | The Church of Scientology dealt an unexpected blow to actor Tom Cruise today, excommunicating the Hollywood star for being "too weird."

In an official statement from Scientology headquarters, church elders said that Mr. Cruise's erratic behavior during his ongoing courtship of former "Dawson's Creek" star Katie Holmes was so bizarre that it threatened to reflect poorly on other Scientologists.

"The Church of Scientology likes to consider itself tolerant about the behavior of its members, but Tom Cruise has been acting like a total kook," the official statement read.

According to Scientology insiders, Mr. Cruise began to alarm church elders last month, when he appeared on "Oprah" and jumped up and down on a couch like an insane person, proclaiming his love for Ms. Holmes.

His increasingly unhinged protestations of love, capped by his proposal to Ms. Holmes at the Eiffel Tower last week, prompted the church to take drastic action.

"As Scientologists, we believe that we all come from another planet," the official statement read. "Having said that, Tom Cruise has been acting like he is from Mars."

But according to Buddy Schlantz, a veteran talent agent and observer of the Hollywood scene, Mr. Cruise's dust-up with the Church of Scientology may turn out to be his greatest publicity coup to date.

"Whenever people hear the words 'Tom Cruise' and 'Mars' in the same sentence, it reminds them that 'War of the Worlds' is opening June 29," Mr. Schlantz said.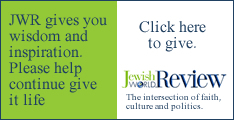 Every weekday JewishWorldReview.com publishes what many in in the media and Washington consider "must-reading". Sign up for the daily JWR update. It's free. Just click here.

Comment by clicking here.
JWR Contributor Andy Borowitz, the first-ever recipient of the National Press Club's Award for Humor, is a former president of the Harvard Lampoon,and a regular humor columnist for Newsweek.com, The New Yorker, The New York Times and TV Guide. Recognized by Esquire magazine as one of the most powerful producers in television, he was the creator and producer of the hit TV series The Fresh Prince of Bel-Air and producer of the Oscar-nominated film Pleasantville.

© 2005, Andy Borowitz